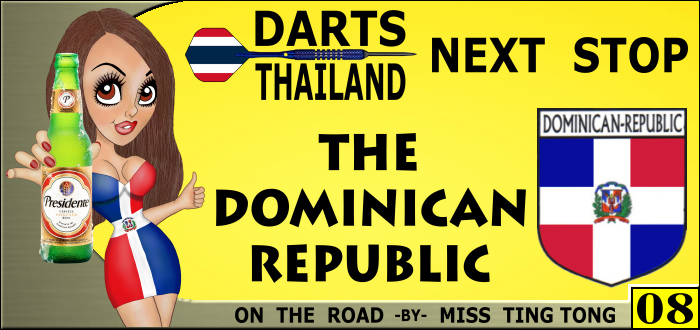 The Dominican Republic is our next destination on Darts Thailand's "On The Road" series. The California reports have paused as Johnny is visiting his Mom with an ongoing family reunion. CA reports will resume when Johnny returns from the DR. Visits to a few favorite darts bars are planned as well as a special report featuring our good friend and darts pro Scotty Burnett at the brandy new A-ZDarts.com facility where Scotty serves as the GM.
NOTE – The DR pics seen here are from last year's trip. On Saturday Johnny will be flying with brother Gary to his home – the Dominican Republic. They will fly into Santo Domingo thirsty with the initial stop being the first available watering hole for a few refreshing Dominican beers. Time spent at major locations will be working around Gary's work schedule with the remaining part of the time getting out to some of the more remote areas.
DOMINICAN REPUBLIC DARTS OVERVIEW – The places to find darts action are areas where you find foreigners. Puerto Plata and including in this order – Costambar – Sosua – Cabarete – is where the heaviest concentration of darts venues are found. Costambar has regular organized darts events that are well attended by the regular and semi-regular expact crowd as well as a growing group of Dominican enthusiasts – some the top players. Sosua and Cabarete have some of the more popular bars with dartboards in the general Puerto Plata area with good regular crowds and occasionally some darts action but no organized events. A few years back there was a darts league centered out of Sosua. The venues with dartboards are available as well as enough willing players but what's lacking is a key person or two to get a league organized.

Santa Domingo – along with being the capital city is also the largest. But darts venues are far and few between. We'll be checking on some leads we've heard about this upcoming trip. The same goes for Santiago – the nation's second largest city. Some resorts are said to have boards and well list and report on these as we verify them. There are many local Dominican style waterholes with plenty of space for a darts throw area. An introduction of a weekly darts event with prize money – nominal amount – put up by the venue along with a player registration fee again nominal amount would no doubt attract and interest new darts players. But again this would require a key person or two to organize and get things going.
Dominican drinking venues have a great atmosphere – beer -music – food and absolutely great people. Darts would be just a great addition to all of this. Seen in the pics is one place that comes to mind in Santiago – open air BBQ chicken place where some of the great local musicians gather for sessions on their off day. If only they had a dartboard. We will have an updated listing of darts venues posted here on DT after this trip. All darts venues findings from last year's visit can be found on our sister site DartsDominican.com FB page with link listed below. – Your reliable DT reporter – Miss Ting Tong
Darts Dominican FaceBook Page
https://www.facebook.com/DartsDominican