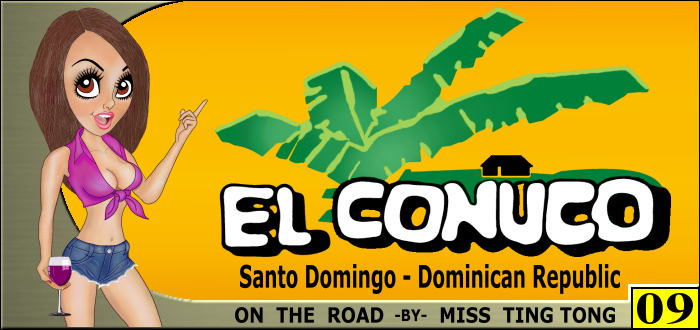 Now reporting from the Dominican Republic. Johnny and his brother Gary landed in Santo Domingo. After a long flight – a cold refreshing beer or two or three was definitely the first order of business. Although the DR may not have many darts bars – we'll report all interesting watering holes along the way on our quest to find new darts bars throughout the country.
Without a doubt El Conuco Bar & Restaurant is a place to visit while in Santo Domingo. With a classic traditional decor it offers an excellent menu of authentic local cuisine and of course DR beers which are excellent. Upon arriving – Gary opted for the air conditioned dinning section to get something to eat – Johnny opted for the open-air bar very happy to discover a smoker-friendly environment.
Being there before the prime dinner hours the brothers had the opportunity to get to meet and spend some time with the excellent staff. Bartender – Wanderley and waitresses Arisleidy (traditional dress) – Loreimg (white shirt) – Yudith (yellow shirt). All speak English – Loreimg's English skills excellent. The DR's most popular beer is Presidente – and Wanderley introduced Johnny to their newest product – Presidente Black which has the highest alcohol percentage. Mmm Mmmm good.
Another major attraction at El Concuco is the traditional dance exhibitions which unfortunately the brothers were off to another destination before any of that. Sure do hope to get back to see that while back down in Santo Domingo. Till my next report – your efficient DT reporter – Miss Ting Tong