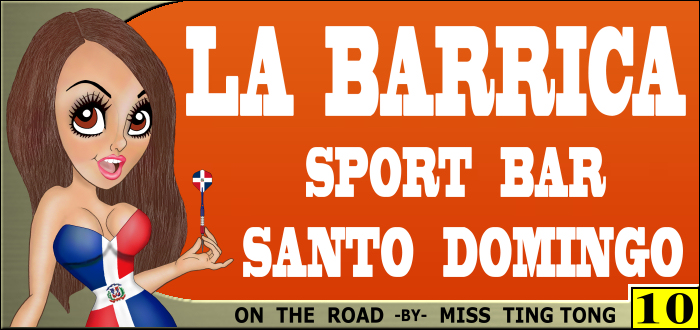 Again reporting from Santo Domingo – Johnny's brother Gary told him that they were headed to a real happening place to meet the lovely Senorita Yudith. Our destination was the popular La Barrica Sports Bar across town. Gary complained the whole way about the terrible traffic while Johnny couldn't understand what he was going on about. Seems Gary is overdue for another visit to Bangkok – as it's said – You don't know what traffic is until you come to Bangkok.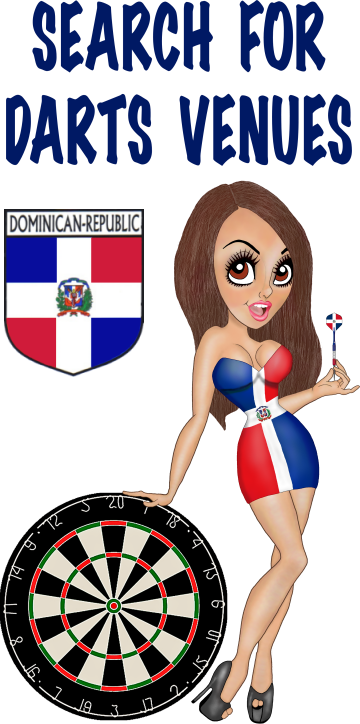 Gary keeps reminding Johnny not to be expecting to easily find a darts bar – but when Johnny saw La Barrica Bar – he was confident that they hit the jackpot and a spectacular darts venue awaited them. Such was not the case and although La Barrica isn't a darts venue it sure is a place well worth a visit. Now expanded to three floors – some open-air areas and some with air-con. They have an excellent menu but ice-cold Presidente beer was the brothers choice. Last but certainly not least is their great music – Salsa, Merengue, Tipico, Bachata to name a few styles is no wonder that this place draws large crowds every night.
Senorita Yudith was already there by the time the brothers arrived. She's a great gal and was well up for some photos. Johnny finally had his opportunity to get a photo in a cowboy hat – now joining the esteemed ranks of New Cowboy Bar darts players who have donned the "Cowboy Hat" – Bennett (who has his own hat) – Cowboy Colin who is said to be Luton's only cowboy and Kenny (aka KTD – Kenny-The-Dart) who in true Yorkshire style sports a Texas ten-gallon style hat. And in one of the last pics in the gallery Johnny got his photo with La Barrica's very amicable door man – any doubt of how large Dominican bouncers are will be put to rest with this photo.
The brothers are now in Santiago and plan to move northward as early as tomorrow. Somewhere along the line they'll return to the Puerto Plata area – Costambar – Sosua – Cabarete – where the heaviest concentration of darts venues are found. Having a great time and looking forward to seeing some darts friends up north soon. Until next report from DT's most efficient reporter – Good Darts ! – – Miss Ting Tong