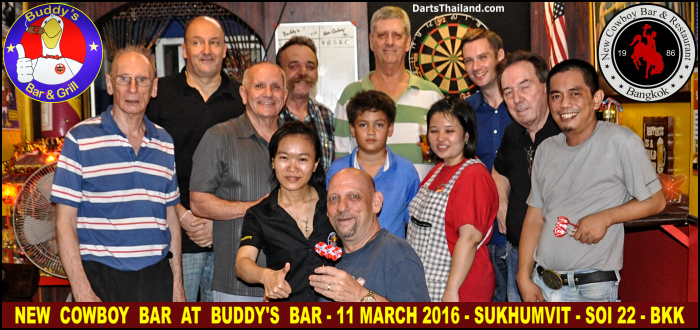 FRIENDLY MATCH 1.
So, I arrived at Buddy's Bar at thirty minutes past eight. I was way, way late because of a bad route choice going from Min Buri (where I live) to Sukhumvit Soi 22. Anyways, as I arrived at Buddy's, I met P'tia, our benevolent yet energetic team manager from New Cowboy Bar, on her way back to the New Cowboy Bar just a few blocks away. She told me that the single leg 501 singles matches between the two bars were already done.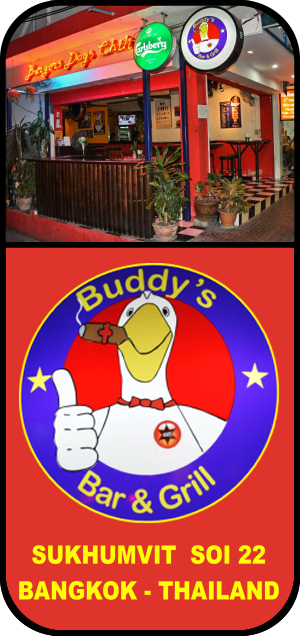 SINGLES GAME RESULTS
Mode of play: Single Leg 501
The first game between Tom (Buddy's Bar) versus P'Tia (New Cowboy Bar) was won by Tom. Kenny The Dart of New Cowboy Bar scored a win against Howie of Buddy's to even the score at 1 win each for both bars. The third game was won by Gary of the home team Buddy's against Steve of New Cowboy Bar. New Cowboy Bar darts team captain Adam saved the day and face for the visiting NCB team when he won the final singles match against Ray of Buddy's to make the game even with two wins each for both teams.
DOUBLES GAMES RESULTS
Mode of play: Single leg 501
There were two doubles teams from Buddy's that night but since the visiting New Cowboy Bar brought their numbers, Buddy's had to make a third pair of doubles players coming from their teams 1 and 2. The final pairing for the doubles events were as follows. 1.Tom/Ray (Buddy's) v. Adam/Colin (NCB), 2. Howie/Gary (Buddy's) v. Steve/ Kenny (NCB) and 3. Gary/Tom (Buddy's) v. Bennett/Johnny
It was Buddy's dart on the first game with Buddy's Tom shooting a 94 in his turn at the oche but NCB's team captain Adam fired back with an 81 on what turned out to be an exciting doubles game. Buddy's seemed to hold their darts when they had the first chance to check out on a double 18 but NCB caught up and eventually won the first game with captain Adam checking out a double 2.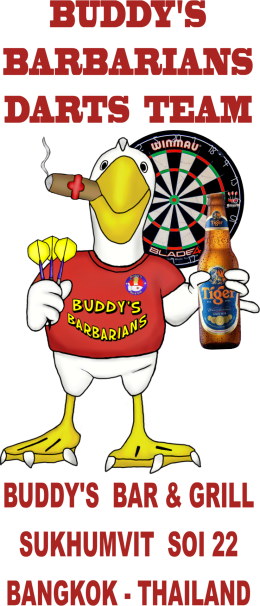 Kenny the Dart of NCB came out with guns blazing with a tonner on his first trip at the oche and the second doubles game seemed to turn out in favor of the visiting team but Howie and Gary of Buddy's threw hard to keep up with Kenny the Dart and Steve of NCB that even if Steve was able to set up Kenny for a possible double 2 check out, Howie ended up winning the game for the home team on a mad house outing to even the score for both teams. BUDDY'S 1-1 NCB.
The third and final game was played between Buddy's Gary and Tom versus NCB's Bennett and Johnny. It was a see-saw battle in the scoring for both teams but Bennett was able to set up Johnny for a possible double 14 check out which Johnny, with his revitalized vision, gladly obliged to secure the win for the visiting team. Final doubles result: NCB 2-1 Buddy's.
DINNER
In between the doubles and group game, dinner was served and the visiting New Cowboy bar team were treated with Buddy's famous burgers, hot dogs, chili dogs, pizzas, fries and a variety of salad. It was a pure gastronomic delight as members of both visiting and host team ate their dinner in delight. I think I made myself a couple of Buddy's burgers with their huge and beefy patties and munched on a hotdog a little later. With bellies full, a team game was decided to be played between the two teams.
TEAM GAME
Mode of play: single leg 1001
Buddy's Bar team was composed of Gary, Tom, Ray, Len and Carl, the youngest player who was barely in his teens. New Cowboy Bar, on the other hand, were composed of team captain Adam with NCB regulars Bennett, Steve, Kenny the Dart and Colin. Captain Adam started hot for NCB with a tonner of which got the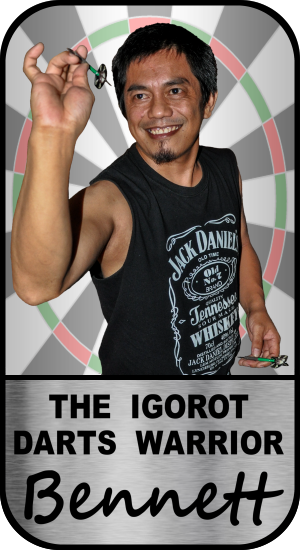 Buddy's bar players scrambling to catch up but the NCB regulars scored decently enough to keep and maintain at least a three-dart lead over the home team.
Halfway through the game, Buddy's showed some sort of a comeback when they scored a 93 and later a 119 but steady throwing from the NCB captain which was complemented by the regulars was good enough to secure the win for the visiting team.. Thanks for the three tonners of NCB as opposed to a tonne plus production of Buddy's bar which led them the set a check out first while comfortably in the lead. NCB checked out a double four to win the game.
It was a really fun night of darts, drinks, food and camaraderie for the players. Thank you Buddy's Bar for having us…
Bennett – "The Igorot Darts Warrior" with notes from Colin
NOTE – – Buddy's Bar & Grill is a long-established, popular watering hole and eatery that is now making their presence known online.
Buddy's Bar & Grill Website (Soon to be fully operational)
FaceBook Announcement Page (Please click on "like" when you visit)