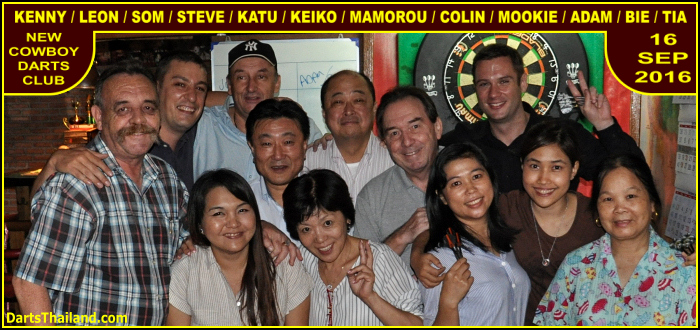 The New Cowboy Darts Club continues to earn its fame as one of Bangkok's most active darts venues. It's 500 meters in Soi 22 from the the Sukhumvit Rd. / Soi 22 intersection – opposite side of the street of the Holiday Inn at the intersection.
Friday the 16th was a planned darts meeting with Adam & Bie and Leon & Mookie joining New Cow regulars Kenny, Steve, Colin, Johnny and Miss Tia. Then regulars Mamorou & Som arrived introducing Katu & Keiko to our regular darts hangout. A special welcome to Katu & Keiko and we look forward to seeing you again many times in the future.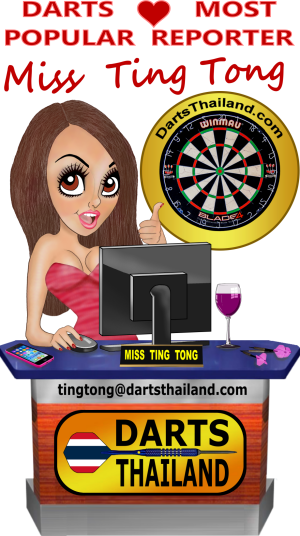 Some impressive darts were played but due to our inept photographer's failure to get even a single shot of the scoreboard I'm unable to provide you with any of the details. If he got at least one scoreboard photo for every five pints of draught beer he consumed – I could report near play by play action.
Remember that if you're looking for a great friendly social darts atmosphere – it's at the New Cowboy Darts Club. There's usually open darts games going on any given night of the week. But at this time until our regulars work schedules allow – we don't announce any set day or weekly events. This may soon change but until then – if you give us a bit of advanced notice by stopping in or messaging here on one of our FB pages we'll do our best to get as many of the regulars out on a night you can visit.
Good Darts
Miss Ting Tong
Darts Thailand