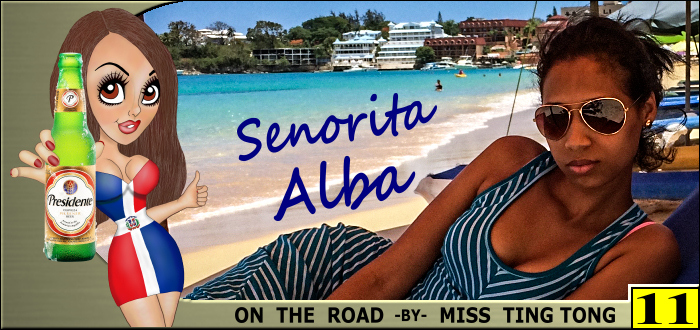 Senorita Alba is our featured Dominican Darter in this report. – – Johnny's brother Gary has been showing him some of the amazing parts of the Dominican Republic which we'll have in upcoming reports. But as we're now in "the" major darts area of the DR – we now bring you this report. The lovely Senorita Alba is Gary's friend and joined the brothers in Sosua and Cabarete for some beach photos by Gary as well as a visit to Voy Voy.

Gary's beach photos of Alba in her swimsuit are on Sosua Beach – probably the most popular beach in the area and no wonder why. It's a beautiful sandy beach that's great for swimming. Back up from the beach in the tree line are various businesses with everything from food – cold drinks and souvenirs for sale. Johnny opted to skip the beach trip and spend the afternoon in intellectual conversation with the patrons of Spany's Bar where the brothers were staying in their upstairs rooms.
Not at all unusual there was a power outage in Sosua – so we moved to Cabarete. After checking into some beachside rooms – we were off to get something to eat and found ourselves at Voy Voy. This place is really popular with so many beach and sea activities including sail surfing and beach volleyball. They also have a great menu with reasonable prices and of course icey cold beer.
Gary brought Johnny to this place last year and from a darter's perspective this is a really unique darts bar. Without a doubt – if there were a top ten list of most unique dart throws – Voy Voy would be on that list if not in the number one position. A spiral staircase leads up to the darts area. At the top of the stairs is a ramp that leads over to the darts area loft. Hopefully the photos of Alba will give you some idea of how different this darts throw area is.
We hope to pop over to Costambar for a visit as they had regular weekly darts events last year. But right now is the low season so we will update on the darts scene in Costambar. As mentioned earlier – The Puerto Plata region (Costambar – Sosua – Cabarete) is the main area for darts in the DR. We also have some interesting video going over some remote mountain roads that we'll have posted here as soon as Johnny can sus out how to accomplish that. But that's all for this report from your diligent DT reporter – Miss Ting Tong