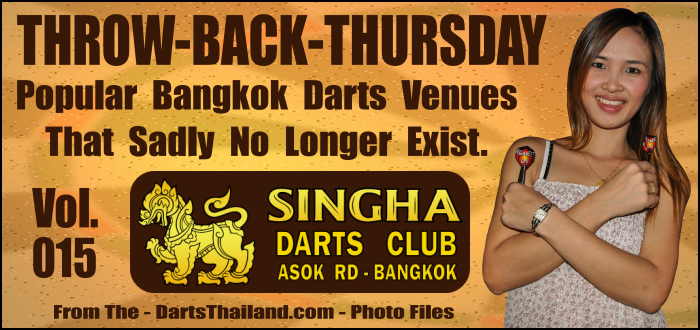 Welcome to our latest TBT article featuring popular darts venues that are no longer in business. This time we look at the Singha Darts Club part of the Singha Beerhouse complex on Asok Rd, Bangkok. The complex was made up of two buildings with covered open-air area in between. The building on the left was pub style with live music as well as their kitchen.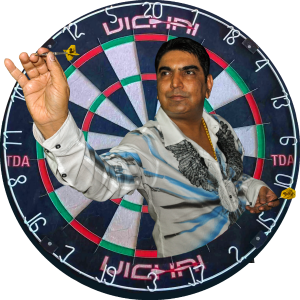 The building on the right was the Singha Darts Club – the concept & design by Vichai Govindani, long time president of TDA (Thailand Darts Association). This place was an inter-city darts bonanza location. Standard layout was four dartboards with excellent throw areas as well as viewing of all the action. On top of this, literally on the floor above, was a hall available for catering events. No doubt that Vichai's TDA could set-up this room with as many as 32 dartboards with their mobile dartboard stands for any possible darts tournament.
The Singha Darts Club and the entire Singha Beerhouse complex was a photographer's dream. Well spread out with many interesting backdrops gave everyone pointing a camera feel like they had their own photo studio. The darts throw area with four boards was well light – not too bright but just right unlike the lighting challenges in many darts venues. Maybe you can see this in the accompanying photo gallery.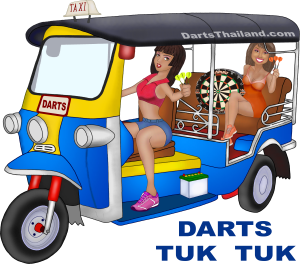 The Singha Darts Club seemed to have everything going for it but sadly it did not last that long. Without any insider information, I'd guess that this was just another case of a ground floor or one or two story business that the property became valuable enough to replace with a multi story building. In my years living in Bangkok I've sadly seen this happen time and time again. No more Washington Square or Queen's Park Plaza, once popular nighttime destinations, so many with darts throw areas.
As always, I hope that these photos bring back some pleasant memories for you. I've got a few more venues to feature in this series. Then we'll look ahead at popular darts venues where the darts action is happening today. Stay Well & Good Darts – Johnny – DartsThailand.com