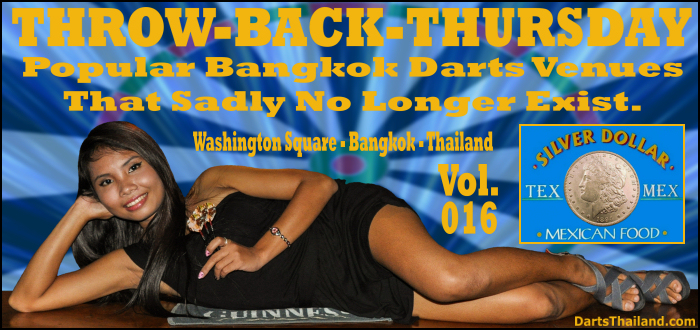 Welcome to our latest TBT article as we feature popular darts venues that are no longer in business. This report took me a while to put together. The Silver Dollar Bar was one of my absolute favorites and with so many photos in our DT photo files – took longer to narrow down to the accompanying photo gallery. As always, hope these pics bring back some pleasant memories to you in them & and for those who never had the opportunity to visit the Silver Dollar you missed out on a great bar & darts venue.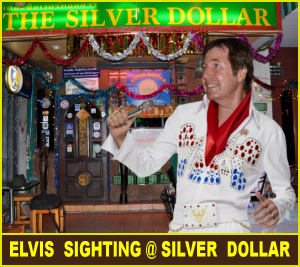 I discovered the Silver Dollar when I finally decided to make Bangkok my home. Oh, I knew of many "interesting" Bangkok locations from prior visits over the years. But the Silver Dollar, Washington Square and Sukhumvit Soi 22 so impressed me, it's where I settled. Yup, lots has changed in those twenty-plus years and not much of it to my liking.
The Silver Dollar was the the first bar to open in the now nearly forgotten, once great Washington Square. Never met the guy who originally opened the Silver. In my time Ott & Ned were the Silver's publicans. Must mention that "officially" Ned had nothing to do with the operation of the Silver Dollar bar. Also, that I never "officially" worked for Ned & Ott on many occasions . . . !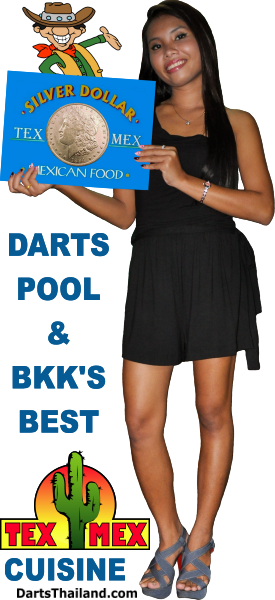 Ned's philosophy on advertising was simple. If it brings in business – it's good. Being popular with all the clientele I used Ned in nearly all of the Silver's adverts both online and printed for the bar. In the gallery included is the "Happy Hour" advert with then Governor Arnold. Nothing really special about it but the story it created. It so enraged two customers from California, they pulled it off the wall and attempted to tear it to pieces. The poster was laminated and the plastic was thick enough that they were only able to bend it up. Fair play, they paid for it and Ned decided to stay away adverts that could be sensitive to anyone from California.
I'd have to say that Ned's favorite advert was for Super Bowl XLV at Silver Dollar. Pay close attention to the guy under the quarterback helmet. Only recently, Ned told me that he & Ott still have a print of this one in their home. Do you have a favorite Silver Dollar pic or advert from the accompanying gallery? Hmm, which one?
Sadly so many of the Silver Dollar Bar style bars in Bangkok are quickly becoming extinct. Value & support those that are still here. The Silver Dollar Bar closing is now a ten-year memory. Many thanks to Ned & Ott for all the Silver Dollar Bar pleasant memories !
Until next time, stay well & good darts ! – Johnny