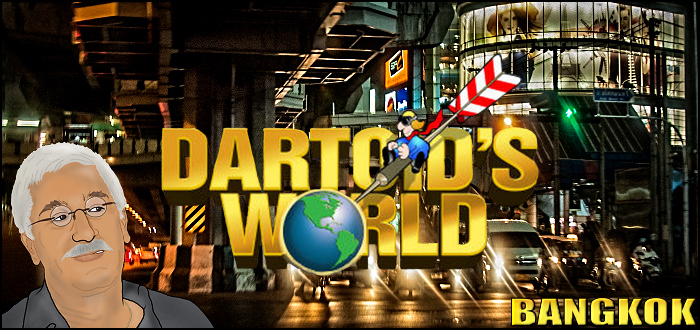 15 Sep 2015 – Long time good friend of Bangkok dart players – Mr. Paul "Dartoid" Seigel is in town. Paul just got in last night and will be at the oche in the New Cowboy Bar on Sukhumvit Soi 22 this evening. Luckily – Melbourne John is still in town and these two darts legends will meet personally for the first time this evening. We invite all who can make it down for some good darts and a great time. As usual Paul will be making his rounds to our dart bars as his schedule permits during his stay.
This Friday (18 Sep) the amicable Miss Tia will be hosting a New Cowboy Bar doubles "Blind Draw" – beginning at 7 PM. KTD (Kenny-The-Dart) will be down – promising to throw some darts that all of us will remember for a long time. Again – hope to see one and all for a fun night of darts and a great time.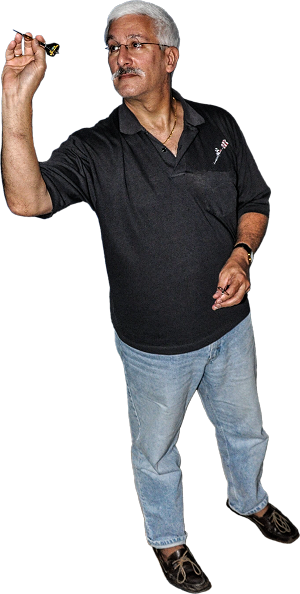 For those new to the darts world – I'll attempt a bit of an overview of Dartoid. He's a long time darts writer who's columns are syndicated in darts publications that can be read around the world in a variety of languages. Check out his website "Dartoid's World" (dartoidsworld.net). There are many darts publications out there – but – there's only one Dartoid's World and monthly featured "Double Out Shot" photo. What's that? Check it out and you'll become a regular of Dartoid's website.
If nothing else – Paul is a "durable darter". My meaning? No matter what darts challenge we put to him – he accepts and keeps coming back for more. So far – Dartoid is the only dart player to accept the DT ultimate darts challenge match to play an elephant. Don't believe it – check out the video that can be found on both websites – Dartoid's World & Dart Thailand. Also Paul was willing to take on twelve top Thai lady darters at the oche – all wanting to demolish him. Don't believe it? Again check out the websites for the video.
Below is a photo galley of random Dartod pics over the years from the DT Photo Library. Time to sharpen my darts and head out for a good pre game warm-up – at least three draught pints ! – – Johnny