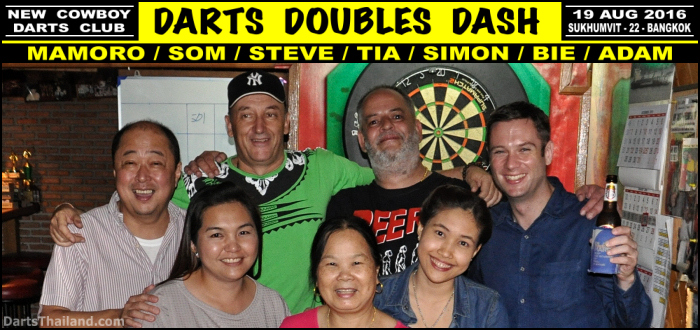 Another great night of darts was had by one and all at the New Cowboy Darts Club. As a personal darts trainer it truly gratifies me to see a group of darts players like this – keeping fit by participating in the demanding physical activity of playing darts. Lets be honest here – many people claim to be able to identify darts players simply by their well-toned physique.
We saw skillful arrows thrown in this doubles darts match-up by Teams – A) Bie & Adam – B) Som & Mamoro C) Simon & Steve. Competitiveness between mixed doubles teams (ie male /female) can sometimes be even more intense – not that you can see any example of this in the pics in the accompanying photo gallery. This gave the darts events planners at at New Cowboy an idea for a future event – a Mixed Doubles Knockout. Stay tuned as I'm sure that you'll be seeing more about this in the near future.
The popularity of the New Cowboy Darts Club continues to increase with more folks joining us at the darts oche. Remember that if you're looking for a good time playing darts with some great folks in a relaxed social environment – check us out and I'm sure you'll soon become a member of this darts club. Before I sign- off here I'll leave you with one of my helpful, healthy darts tips.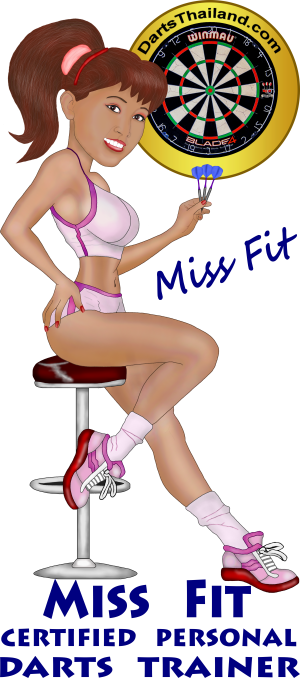 CERTIFIED PERSONAL DARTS TRAINER'S – FIT TIP #1
Fact: You can get a great cardiovascular workout without having to run miles on a treadmill or waste hours in a gym. In fact, these bodyweight-only moves are mostly low impact, meaning you can get far more benefit in the comfort of your own favorite darts bar with my darts cardio workout.
Warm-up: Stand at the bar with feet hip-width apart and arms up, palms facing each other. Bend both knees and shift your hips back as though you are sitting in a chair. Draw shoulder blades down and back. Use your glutes to return to standing and finish your beer. That's one rep. Consider two reps on your next trip to the bar. Try this cardio workout before your next darts match and you'll be energized and empowered throughout your time at the oche!
I'll be offering you more healthy darts tips in future reports and in the meantime I hope to meet you at a darts oche and always remember this – – Get Fit – Stay Fit – Play Darts!
Miss Fit
CERTIFIED PERSONAL
DARTS TRAINER
Darts Thailand