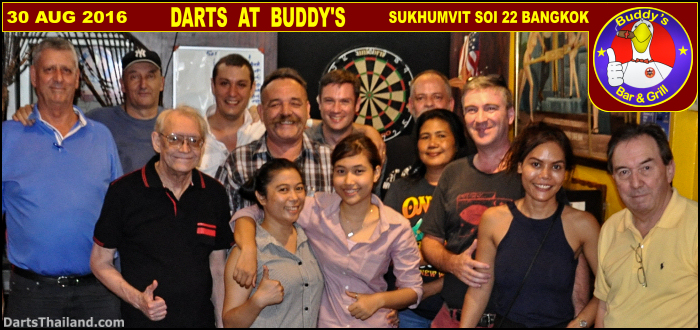 A darts night at Buddy's Bar & Grill on Sukhumvit Soi 22 is always a great night to be had and this was proven yet again by one and all participating on 30 Aug 2016. It was a great turn-out for a darts doubles challenge. A warm welcome to Leon & Mookie and Eoin & Jum who wasted no time demonstrating their efficacious skill at our beloved game. Also strutting their darts mastery were our favorite regulars – Adam & Bie and Simon & Jit and Steve & CW and Colin & Kenny.

Many thanks to our host at Buddy's Bar – Tom and all his fine staff. Even with last minute notice – Buddy's Bar provided us an amazing food spread of their special cuisine that makes Buddy's such a popular diner style eatery. For all you regular patrons of Buddy's Bar who thought it couldn't get any better – you're wrong. Buddy's Bar is now twice as good recently opening their second location in Bangkok – with a darts throw area of course. Congratulations Buddy's and best of luck on your new endeavor !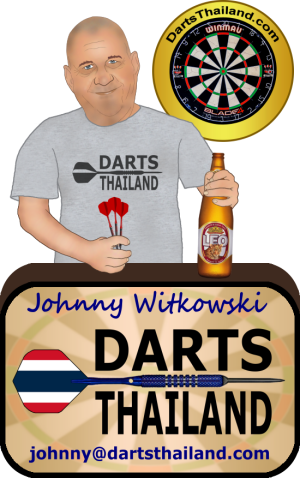 Buddy's Bar and New Cowboy Darts Club – both on Sukhumvit Soi 22 have a special darts association with regular darts friendly challenge matches. Coming soon – dates to be soon announced will be the next installment of our match series with the first match at Buddy's followed by a return match at New Cowboy. A continuing tradition is the first singles game being played between each venues' "Big Boss" – Miss Tia of New Cowboy and Tom of Buddy's. The current score is a one to one draw. Who will be the tie breaking victor in the upcoming match? I've been carefully monitoring the progress of each player and I've got to be honest and say that Miss Tia is looking to be the much stronger player. Tom do yourself a favor and spend some time at the darts oche – after all – your don't want embarrass yourself in Buddy's at the next meeting do you? That's all for now – I can hear a pint of draught beer calling me.
Good Darts !
Johnny Witkowski
Darts Thailand