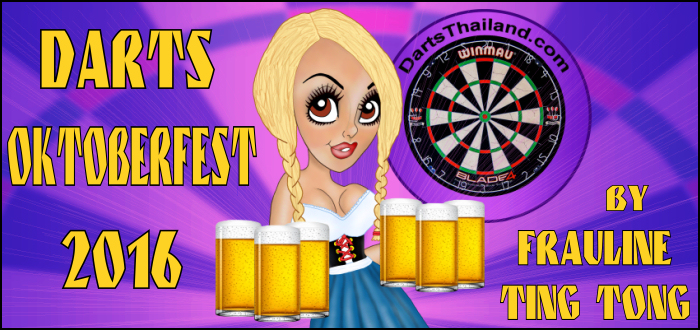 Guten Tag, Wie geht es Ihnen? Tis the season to be jolly – that magical time of year is once again here – Oktoberfest ! Let the beer flow & the darts fly ! This is a most special celebration to most of our Darts Players and is celebrated year round with the only break to celebrate Saint Patrick's Day. At this time it's my extreme pleasure to bring you DT's Darts Events Update.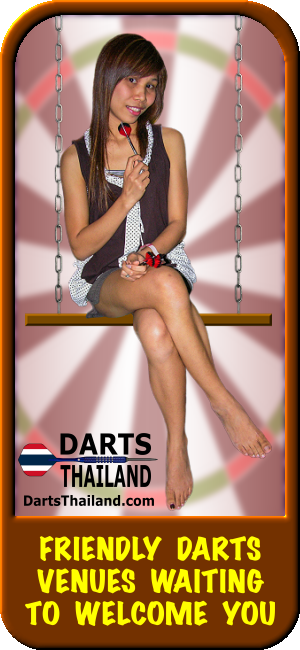 PEA Darts Open (8 – 9 Oct 2016) – The Provincial Electric Authority (PEA) Open held in the Jatujak area of Bangkok is nearly upon us. This is one of the major Thai darts annual events with players from not only around Thailand but some from abroad participating as well. Saturday 8 Oct begins with the Open Team event followed after lunch by the Ladies Singles event. Sunday 9 Oct begins with the Open Doubles event followed after lunch with the Open Singes event. Then the final playoffs of all events are held with a trophies and awards presentation afterward. We wish all players competing in the 2016 PEA Darts Open – Good Darts !
NOTE – If you're now in Bangkok and would like to participate in either the Ladies Singles event or the Open Singles event all you need do is arrive early enough prior to the event in the registration time. If you're looking to join a four-player team in the Open Team event – OR – in need of a doubles partner for the Open Doubles event contact us here at DT on one of our FaceBook pages and we'll do our best to get you hooked up. A PEA Darts Open 2016 advert for this event can be found in our photo gallery below.

Most happy to report that our three regular weekly darts events not only continue – but increase in popularity. This is a great way for visiting dart players to get to meet the local players. Starting on Fridays in Bangkok – the Sportsman on Sukhumvit Soi 13 is the place to be. Aside from being a major sports bar with many large screens playing all major sports events and multiple Brunswick pool tables, well stocked bars with many different draughts to choose from and a great food menu – they got darts – yup five boards and a great competition throw area.
Saturdays on nearby Sukhumvit Soi 11 the well-known, long-established darts venue – Domino Pub holds court with their popular Lucky Draw event. "Ah, if only these walls could talk." Well in Domino Pub the photos on their walls do all their talking – with photos some of the world's darts greats visiting their oche since 1982. Being one of Thailand's oldest, still existing darts venues – it's a "must visit" for any new darts player. And with some of Thailand's top darts players regularly playing on on any given Saturday Lucky Draw – you have the chance to be paired on a winning doubles team.
Fridays on Patong Beach in Phuket the Starfish shines in the darts limelight. "Darts At The Fish" has become the major darts event on Phuket. Their high-tech innovations of laptops projecting the scoreboard on large screen TV screens sure does impress many of our darts locals. Recent renovations has increased the size of the Starfish due to not only the popularity of the bar but also due to the excellent offerings on their menu. Stay tuned because we still plan to bring you a feature report on the Starfish !

A Friendly Darts Challenge Match between two bars is nothing new – usually as a one-off – but two challenge friendlies here continue to grow in popularity as on-going running series events. Darts bars out of your usual area of darts play are even better as you get to meet new people – great people – darts people. The popular Don't Tell Mama team from Jomtien Beach and New Cowboy Darts Club in Bangkok began as simple Facebook communication exchange between Steen from DTM and Johnny from NC noticing each others' active darts venues. For those not familiar with these two locations – they're about three hours travel time from each other – great for an over-night or weekend trip. After four challenge meetings some great friendships have been made and with the New Cowboy team looking forward to their next trip to Don't Tell Mama – date soon to be set.
The other popular challenge series Buddy's Bar and New Cowboy is more local – both venues being on the same street – hmm but now more complicated as Buddy's Bar now has two locations. Most likely the next meeting will be New Cowboy going to Buddy's new second location. Nothing more exciting than going to a new darts bar for the first time. Both teams are looking forward in round number three in this ongoing challenge darts series – again date soon to be announced.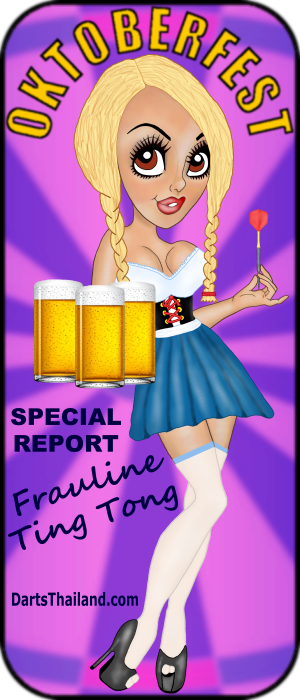 "Oktoberfest Darts Doubles" – New Cowboy Darts Club upcoming gala darts event. So how does the New Cowboy create a theme for Oktoberfest? Answer – genuine imported "German Bier". Yes, each player on the winning doubles team will receive a one-liter can of Kaiserdom Bier. Now you don't go just anywhere in Bangkok to find imported German bier. Well that's not totally accurate as it wasn't till the 7/11 across the street starting carrying Kaiserdom that the creative minds in New Cowboy then got the idea for an Oktoberfest Darts Event. Bottom line – any darts event at New Cowboy is always a great gathering of people socializing and having fun – great pub grub and the chance of drawing a winner of a Miss Tia Free Drink Ticket. Look forward to seeing you at the New Cowboy Oktoberfest darts oche.
Bis zum nächsten Mal
Prosit, Zum Wohl
Frauline Ting Tong
DT Special Reporter
tingtong@dartsthailand.com