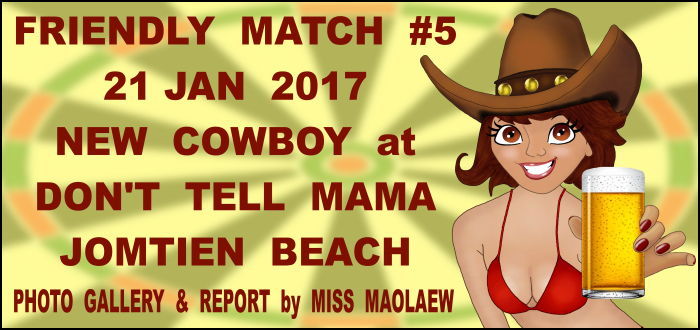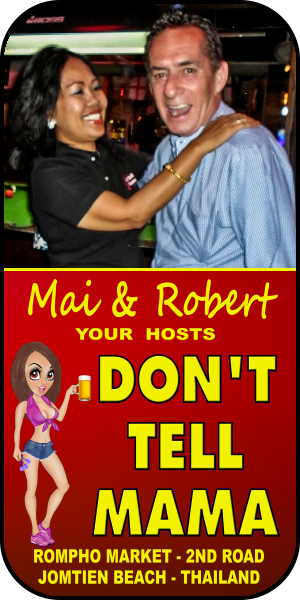 The Friendly Darts Challenge series between Don't Tell Mama and New Cowboy Darts Club is a great success with continual growing interest between these two excellent darts venues. Match #5 was yet another fine example as DTM hosted NC this past 21 Jan. The most serious aspect of this competition remains with the host venues – continually outdoing each other with their exceptional hospitality. Our latest meeting was yet another example with DTM outdoing themselves.
Even though Jomtien Beach is only about a two and a half hour drive and comfortable enough to arrive on match day – play the match and socialize – spend the night and head back to Bangkok the next day – the New Cowboy team arrived a day early to extend our time with the fine folks at Don't Tell Mama. Excellent probability that this trend may add on another "extra" day our next visit.
Special thanks to DTM for their gracious gift – a framed photo of our an earlier meeting. It now hangs proudly on New Cowboy's darts wall. It's the things like this that strengthen the bond of friendship between between our two darts groups. Both the presentation at DTM and the reception and wall hanging of the picture at NC are found on the following photo gallery.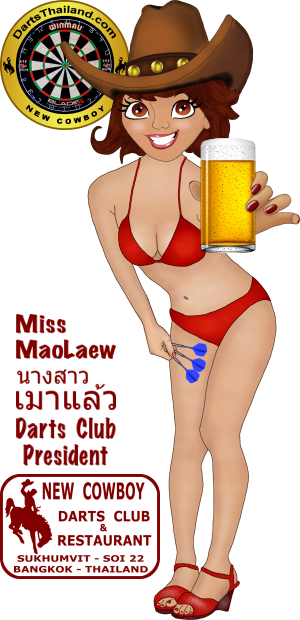 Also special thanks to not only one but two additional photographers on this outing – Tim and Graeme. As well – always appreciate Colin stepping up for photo duty whenever Johnny is playing darts or included in a photo. This report is a bit later than usual as Johnny was really short circuited with not only one but three large photo files.
We look forward to Match #6 with Don't Tell Mama visiting New Cowboy – date to be announced. Again thanks to all for the work and effort that goes into making these darts outing such a popular success as well as all of you that participate.
Good Darts !
Miss MaoLaew
President
New Cowboy
Darts Club