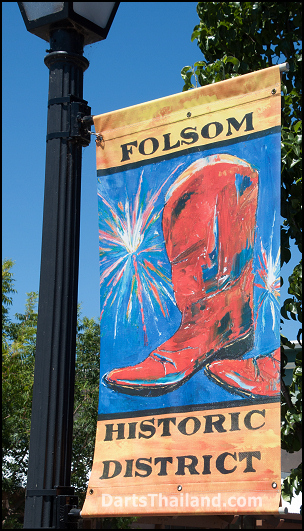 Folsom is a city in Sacramento County, California and is most commonly known for its famous Folsom Prison. Popular musician Johnny Cash wrote and recorded the song "Folsom Prison Blues". David and Johnny were less interested in the prison than the scenic historic area of Folsom which has a good number of eateries and watering holes. It's a well preserved strip with a wild west look.
It was midday with the sun high and hot and after a short while of sightseeing and photographing the sights – the brothers had their sights set on finding a place serving a cold tall pints of draught beer. They didn't need to search for too long. First stop was Samuel Horne's Tavern with a excellent selection of draught brews.
Their second refreshing beverage stop is a true gem – The Folsom Hotel – established in 1885. Although the boys were now 0 for 2 finding a darts bar – the Folsom Hotel is living museum and the friendly gal

tending the bar (original bar) was as knowledgeable and helpful sharing the bar's history as any classy museum that doesn't serve beer. Most interesting were the divots or pock marks on the bar surface. In the old days the liquor salesmen would pour a bit onto the bar and light it to prove the alcohol percentage. And the basement of the hotel served as the bar during the terrible oppressive years of American prohibition. If you find yourself in Folsom be sure and call in on the bar in the Folsom Hotel.
It's said that number three is a charm and this outing proved to be just that as the brothers 3rd stop discovered The Fat Rabbit Pub. In addition to a great dart throw area with two dartboards – this is one great drinking / dining venue. Looking more like a classic British or Irish pub especially with the dining booths – it's open and airy and even provides a shaded outdoor area with tables for the low-life reprobates who indulge in cigarette smoking. But most important it has an excellent selection of draught beers. A special hello greeting to some Fat Rabbit regulars – the Folsom Prison jailers getting off shift who stopped in – seen in the pic with the attractive blonde bartender between them.
Definite thumbs up for the Fat Rabbit and all the historic area of Folsom for that matter. Time spent here and the more the better is time and money well spent. That's all for now all now from DT's only responsible reporter. – Miss Ting Tong – DartsThailand.com