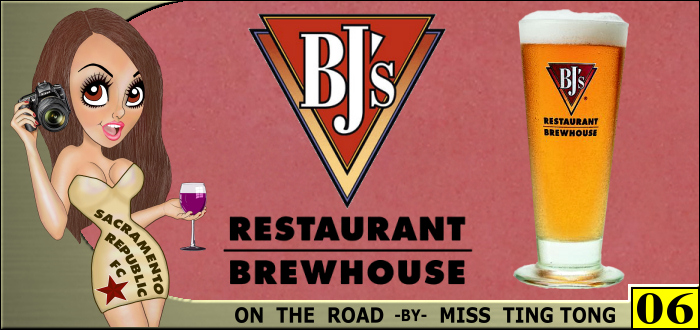 BJ's Restaurant and Brewhouse in Roseville CA is our location. Eleanor- the brothers David and Johnny's mom – was out to do some shopping so after dropping her off – they were off to the nearest watering hole. Now this place had all the outward markings of a chain style CA plastic strip mall business. But upon entering – any real beer drinker will immediately notice a long bar with a healthy selection of draught beers. Although BJ's is not a darts bar it sure does qualify as a noteworthy venue for a beer report – especially being a brewhousw and actually brewing onsite.
Early Sunday afternoon and the joint was chocker blocked. People were waiting to be seated in their large dinning area and the boys were lucky spotting two empty bar stools at the end of the bar. Johnny is always overwhelmed by the selection of draught beers available in this CA area but this time a goose was staring at him – the Goose Island Beer pump across the bar and it made the choice of his first pint an easy obvious one. Thumbs up for Goose Island beer.

The boys were quickly attended to for their drink order by the lovely Miss Anneliese. She is simply amazing – moving at a blurring lighting speed simultaneously filling multiple drink orders for the bar as well as for the tables without loosing a step in on our conversation. Anneliese and the other gal behind the bar could easily be a major attraction at any large bar in Bangkok – doing the work of ten or twelve gals with such apparent ease. BJ's Restaurant and Brewhouse – whatever you are paying these gals it's not nearly enough – they deserve a huge raise – now !
BJ's backroom is a classic with some large brewing containers. This is seen in one accompanying pic by David – he suggests it as a model for a future DT Board Meeting Room. Missing from what may be (will be) the future DT Board Meeting Room is a dartboard and of course many ashtrays conveniently located around the room. It's amazing all the creative ideas that develop in a place with so many great draught beers.
The 2nd last pic is one from Bunz Sports Pub. Another great pic by David with the unique Heretic Draught pumps in the foreground and a football match (that would be "soccer" for you American readers) on the TV in the background. Johnny is now a dedicated fan of the Sacramento Republic FC – oddly enough right after he learned they have team shirts large enough to fit him. Sure all you Bangkok Premier League fans will see him sporting his new team shirt on match nights. Not at all a sports fan of any kind – other than women's beach volleyball and the occasional darts match – Johnny hates all sports equally. But he's warming up to football (again soccer to most Americans) – he's noticing that football teams only play one match a week where as American baseball teams seem to play every day for most of the year. And far better than American football where one match or game can go on and on and on for hours and hours.
Well until my next report – keep your darts flying straight and your beer flowing. Miss Ting Tong