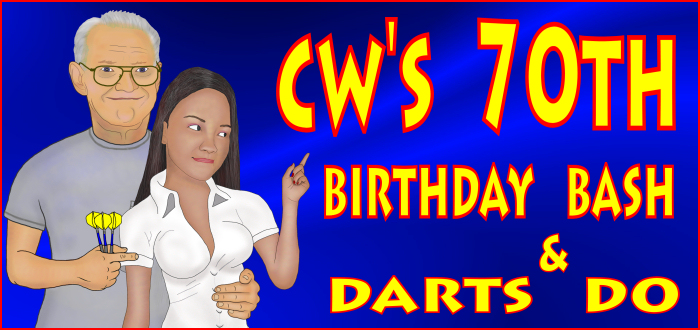 A True Bangkok Darts Legend – CW – and long-time friend to many here – celebrated his 70th Birthday this past Sunday 23 Aug at The New Cowboy Bar on Sukhumvit Soi 22. It was a day early but with those with work schedules – Sunday allowed our group the opportunity to get together to not only celebrate with CW but of course to get in some darts games. Along with the birthday boy we were welcomed to NCB by our skilled darts host – the ever affable Miss Tia. And Simon and his lovely better half – Jit – were in town and in attendance. Adam was down with his friend JJ – a first time player who by the way – managed a few tons on the night. With a well deserved break in his schedule our good friend KTD (Kenny-The-Dart) was raring to go & get in some darts with friends. After two months on the road – I was most happy to get together with these friends for a really great night.

CW has been playing darts continuously in Bangkok for two decades – a claim few other expats or even many Thais can make. He played back in the old Bangkok Darts League as well as the LSDL (Lower Sukhumvit Darts League) and most seasons captained NCB teams. CW is one of the "Hall of Fame" members of the LSDL for his contributions to the league in its 15 years of existence. And of course those of you who follow Darts Thailand know CW is a contributing writer with his accurate reports. My darts reports are vague at best – but – I do have a photo of the scoreboard with the teams and results of the night's play. Only fitting – the winning team was KTD & CW with CW getting the final close on the night – his night.
Blind draw doubles competition is the current NCB darts format. This seems to have solved the smoker / non-smoker issue. Now no need to call a smoke break as smokers can step out and light up while not on the board with the darts action going on non-stop. NCB's weekly darts event format remains flexible to best suit the majority of participants but will most likely remain the same unless needed for a different type event. NCB is now looking at scheduling some friendly challenge matches with some other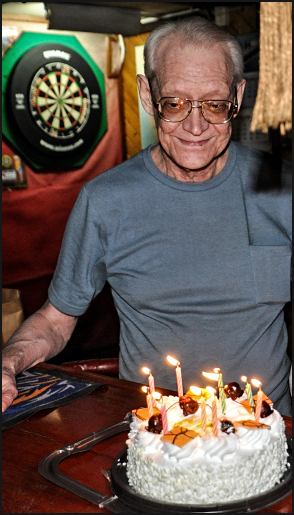 darts bars. We'll be contacting our good friend Steen (probably now reading this) from Jomtien to schedule one NCB home game and another away at Steen's home bar. If you're interested in joining us on the NCB team – stop by the bar and let Miss Tia know or contact us here online.
Great to be back home here in Bangkok – "The City of Angels". If you're only following us on FaceBook – be sure and check out our DT's completely renovated website. A way way overdue update to the active darts bars list is our current priority. So we'll be stopping by your darts bar soon. – – Johnny