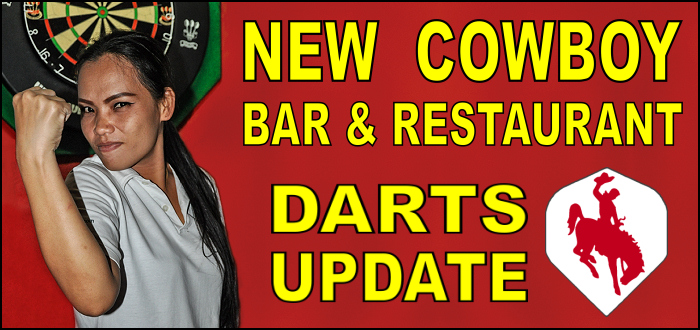 04 Sep 2015 – New Cowboy Bar – A great night of darts was had by one and all once again at NCB. We had four teams in the blind draw doubles format. Team A – It was my lucky night to be paired with a visiting darts legend – John from Melbourne Australia. We've all been enjoying the opportunity of getting a chance at the oche with this darts master. Team B – saw the combined talents of Miss Tia and Kenny (KTD – Kenny-The-Dart). These are two experienced players who seem to be really getting back in the groove having been playing a lot more recently. How Tia can play at this level while keeping score AND overseeing the operation of not only the bar but kitchen as well is simply amazing.

Team C – was made up of CW and Steve and was the unknown factor on the night. Although we're all familiar seeing CW make critical points and double outs under pressure when needed – Steve is new on the Bangkok darts scene. When asked if he was a darts player – Steve modestly said that he'd had a bit of experience at the game. Coming from the UK we'd all assumed as much but were unsure of his level. For a guy who hasn't played a lot lately – Steve quickly proved he knew his way around the ole darts board. No doubt that if Steve remains a NCB regular – his game will quickly get back up to a most formidable competitor. A warm DT darts welcome to Steve and we're certainly happy to have you as one of the newest members of the Bangkok darts community.
Last but not least – Team D – made up of our good friends Jit and Simon who were in town visiting from the upcountry darts mecca of Surin. So nice that husband and wife ended up on the same team although they seemed less impressed about this than the rest of us. Guess that comes from a long-term marriage perspective – something that the rest of us have absolutely no clue or understanding. Now these two are no strangers to darts competition in Thailand and provide a serious challenge in any doubles challenge.
The score sheet as it were – is a pic in the following photo gallery. You can see that it was no runaway from any team but the night's winner was Team A. Now I would like to point out that this had far less to do with my contribution on the night but definitely attributed to the darts skill of my partner – John. His achievement also was a sure fire agreement of all on the night's MVP (Most Valuable Player) award. John took out every double out opportunity put before him.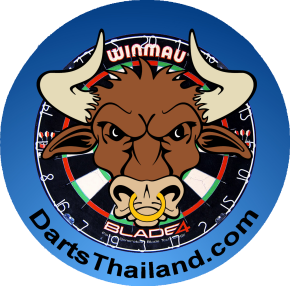 The NCB isn't currently running any regular weekly event although the frequency of darts action on any given night is surely increasing. We hope to get back to a regular Friday night weekly event but until then keep watch of the DT FaceBook discussion page as last minute darts get togethers are usually announced there. As a matter of fact – we'll be getting together tomorrow night (Thursday 10 Sep) at 7 Pm for any who are interested and can make it down. Well until next time – I do believe I hear a cold draught beer calling me. – – Johnny