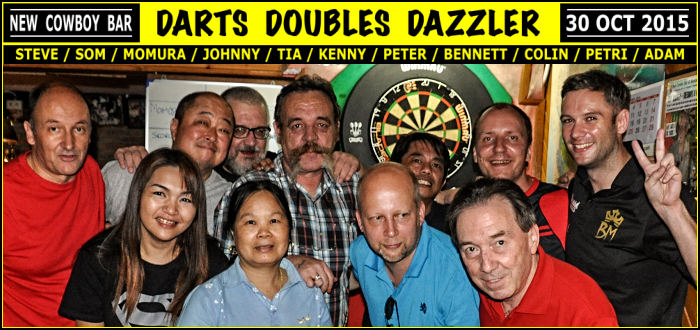 Hi all darters and lovers of the great game: It was a great night last Friday the 30th!! We'd arranged to meet up again for some beers and darts in the NCB – as we usually do – and I arrived there at 6:40pm. This was a bit earlier than normal to enable me to get some practice throws in before the rest of the gang showed up – but I was wrong (as usual!!).
Adam, Steve and two lads I'd not seen before, were already there. Adam introduced them to me – their names were Petri and Peter, both are from Finland and are here on holiday and, what's more, had heard about our "darts nights" from the Internet, which persuaded them to "come-on-down" for the last night of their holiday!!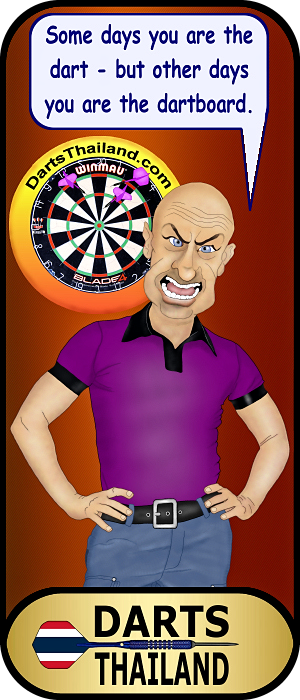 It was already looking up to be a great night, as our old friend Bennett also turned up. He's not been around for some 4-months and it was a real pleasure seeing him once again! We swapped a few stories together for a while, with Petri and Peter. As norm, Adam did all the organizing of the "blind-double teams", which included, Johnny, Steve, Peter, Petri, Adam, Tia, Bennett and "yours truly". The doubles team came out as, Adam & Peter, Johnny & Bennett, Steve & Tia and Petri & myself.
We then got going on some great games – and fast-ones at that! Our "smoke-breaks" were sometimes allowed barely enough time for even one ciggie, no sooner than we'd lit up the door would swing open and someone would call us in to start the next match.
Some great scores were thrown (and a few "26-ers" along the way) but one particular finish deserves a special mention – it being a decent check-out by Adam. He was left with 80 by his partner, Peter, and when it was his turn to throw, he walked up to the oche and said, "Two double tops!!" and by gum & Bob's your uncle, as calm-as-you-come he got it!!!! The first 2-darts were both bang in the top bed!!! Well said, mate!! And a great finish!! You called it and kept to your word!!
About an hour after the evening was underway, two new friends showed-up to join in the evening's games – Mr Momura and the lovely Ms. Som. Ms. Tia agreed to drop-out and enable Mr. Momura to take her place, allowing her to concentrate on her "bar duties" and, of course, the kitchen, which she is in-charge of – yet despite all she had to take care of, she still spared time to chalk-up many of the games for us old darting diehards.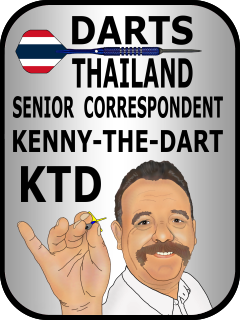 Peter & Petri joining us for the first time, and Bennett coming back down, together with Mr. Momura & Ms. Som, also joining in made the entire evening a joy for all – a "Great Night All Round to Remember!!". It was one of them nights that reminds us how social darts can be, bringing together no fewer than six different nationalities for a game of multicultural arrows.
Though the results may be of little consequence, Petri & myself managed to hit the most outs on the night, making us the victors. As I say, the winners were everyone there though, it was just a great night of arrow & ale!
Drink heartily and aim true. KTD