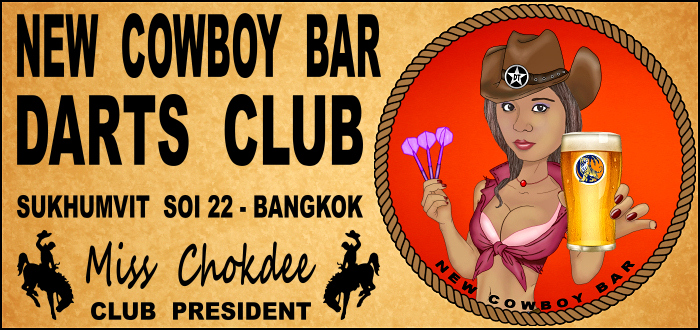 Sawasdee Ka ! My name is Miss Chokdee and I'm the president of the New Cowboy Bar Darts Club. In this article I want to tell you a bit about our club – how it all came about – where we are today and where we're headed. First and foremost we're an informal, relaxed, laid back group – so I suggest you kick off your shoes, get yourself a cold refreshing beverage and then proceed reading.
As our club name states – we've based out of the long time popular darts venue – The New Cowboy Bar. The NCB has a long history as a major player on the darts scene – well known here in Bangkok, throughout Thailand and by visiting darts players worldwide. As a matter of fact – the history of the NCB is a story article in itself that I will look at doing in the future. The core group of our club were NCB regulars who got together for a weekly Friday darts event that became known as "Why Darts" named for our much beloved Miss Wai – who organized these events. Tragically – Miss Wai was taken from us by cancer at the all too early age of thirty-one. After a long run – the regular Friday nights started becoming more irregular do to many players schedules. So in a nutshell – that's where we came from.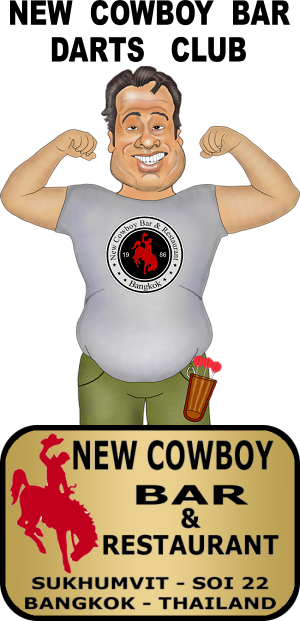 Where we are today – not only are regular Friday nights darts back on a very regular basis but additional impromptu nights as well. Some major improvements on Fridays are – first the starting time. We now begin at 7 PM and most amazingly actually start on time. The result has been an increased number of players. Doubles – round robin – 501 is our current format – decided by popular majority but flexible to best suit the crowd on any gathering. With this format there are usually more than three doubles teams resulting in – No More Smoke Breaks – that interrupt the continuous darts action. Our – hmm let's say our more intellectual players who do not feel they are getting enough pollution from the Bangkok air in their lungs that they pay good money for cigarettes to further fast-track the process – must now wait till their game break to step out and suck down a cigarette.
Our club's objectives include promoting darts and attracting new players by proving what we do best – an example of people having a good time socializing while playing darts. Nothing so nice as hearing from a new convert that they've purchased their own set of darts. Darts Players are a unique, niche, world-wide group not only interested in discussing major darts competitions but equally interested in "your" local darts scene from whatever part of the world you may call home. Club members agree – welcoming visiting darts players to join us at the oche is one of the true highlights of our group – both regular visitors and you new ones that we've yet to meet. If you're a darts player and know about us 'word of mouth' by someone who has visited or are reading about us for the first time here – AND – have the opportunity to travel to Bangkok – PLEASE – let us know and we'll be happy to have you meet our darts locals at the NCB oche.
Where we're headed – 1) more 'regular' weekly darts events – 2) more friendly challenge matches with other darts venues, clubs and teams. – 3) more special events nights at our clubhouse the NCB. As more regular turnouts occur in addition to Fridays – we'll look at additional regular weekly events. More friendly bar vs bar challenge matches. Been talking to many interested parties – (1 home & 1 away) and need to start setting some dates. About got one nailed down with our good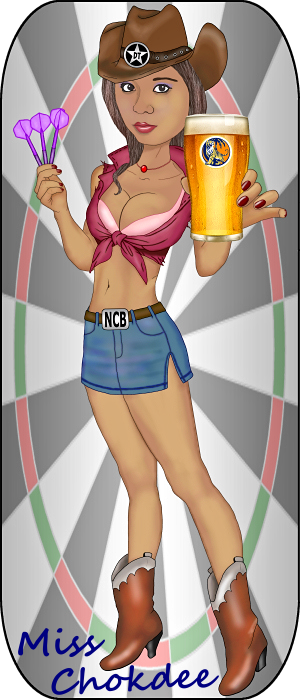 friend Steen and all his fine players from the "Don't Tell Mama Bar" in Jomtien. More to follow on that when we do finalize the dates. And last but not least – more special events at NCB. Got an exceptional one to tell you all about – stay tuned – adverts will be published within a week.
Most of all we thank our club members for making all this possible – those who come out on a regular basis to play and equally those who come out to support and also those who provide you with the fine reports of the night's darts action. The photo gallery below is a random collection of what we feel best tells the story of our darts club in pictures. Apologies to anyone we may have missed. If you have any questions or would like to set up a challenge match – you can comment here or email me at chokdee@dartsthailand.com If you stop in the New Cowboy Bar to see me and I am not in – please give any messages to my good friend Miss Tia or any of the fine gals on her staff.
Miss Chokdee
PRESIDENT
NEW COWBOY BAR
DARTS CLUB