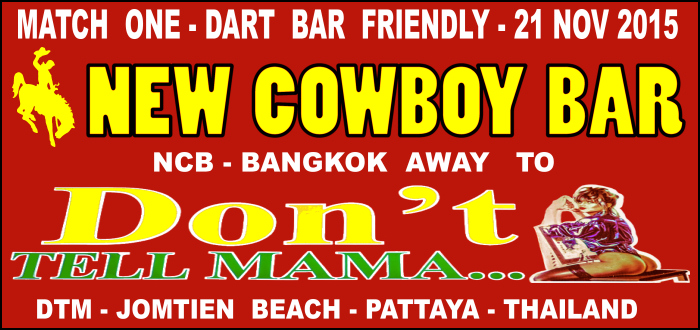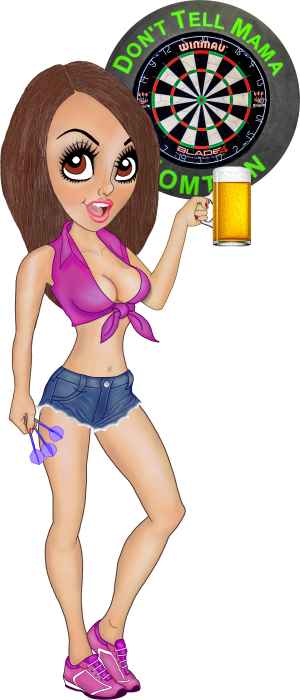 Bangkok vs. Pattaya: New Cowboy Bar @ Don't Tell Mama (21 Nov 2015)
Bangkok darters a curious breed, and none more so than the folk who tread the boards at New Cowboy Bar Bangkok. Not so much "fiercely territorial" as "conveniently located", the majority of enthusiastic arrow-wielding amateurs that frequent the Sukhumvit 22 bar literally live next door. This makes rousing them to bypass the welcoming watering hole for bars further afield something of a challenge.
A precedent was set on 31st January 2015 with a rag-tag bunch of steel-tippers travelling from Suk 22 to Lad Prao 48 to face the soft-tip superstars of Lom Choy @ The Roof, but when Johnny muted an away challenge match in Pattaya to face Don't Tell Mama bar, eyebrows were raised. Pattaya? What Sukhumvit soi is that?
Two bars, hundreds of miles apart. Two taverns, with no historical connection save a throw-away suggestion from Don't Tell Mama's Steen on the Darts Thailand Facebook page that a challenge match would be fun. Against all odds, Johnny & Steen managed to not only arrange the game, but gave two unconnected bars the chance to become great friends – literally overnight.
Arrangements were gradually but soundly made for the NCB team to congregate on Suk 22 at 9:30am on Saturday 21st November, with hopes of being on the road by 10am, and in the bar by 1pm to "warm up" for a match planned to start at 4pm. Again, this seemed like fanciful thinking…but again Johnny made it work. Against all odds, the magnificent manager of NCB and team P'Tia gracefully organized a minivan and, aside from a slight delay, the team (comprising Johnny, Steve, JR, Colin, Bennet and myself) were off and moving before 10am. Miracles do happen!
On arrival we were greeted in style. Steen had thoughtfully taken the time to design and print a huge welcome banner – we knew then that the bar had been set high. Before jet-lag could set in, we ordered some cold ones and no sooner had they arrived than Steen himself wandered in, introduced himself and Bert, and the banter began. Soon after, New Cowboy regular Bryan showed up (he was on holiday in Pattaya) and old friend Ned also joined later taking the NCB team to 8 throwers.
Come 4pm we were all starting to feel a little "merry" – our official warm-up had been well enjoyed – and it was time for the arrows to start flying. The format took shape in an ad-hoc way, with 3 doubles games to start, of just 1-leg each making up the opening round. A gentle ease into the marathon of darts that would follow.
The opening round went something like this: Aeg & Tom bettered JR & Bennett with Aeg checking 11. Bryan & Steve took the second game against Steen & Mick, with Steve checking a D20. In the final game, Colin & myself narrowly edged Malcolm & Yar with a "mad-house" D1 finish…1st round over with NCB up 2-1, but things were about to get tasty. Literally, as a hog roast got underway! Another fine touch from Don't Tell Mama Bar, our fabulous hosts.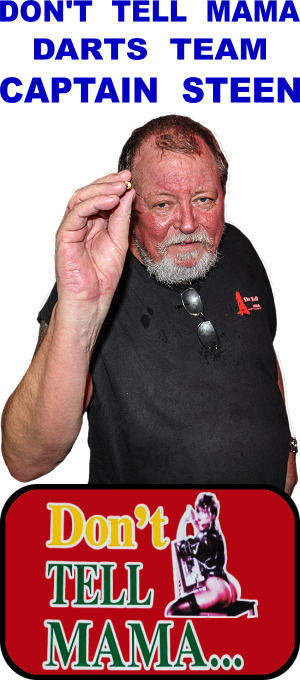 As the drinks flowed, the darts feistily flew at a ferocious pace – or perhaps that was merely the side effect induced by our old friend Leo. The second round continued the doubles theme, but became best-of-3.
We also lost track of the 100s / 120s / 140s / 180s – there were so many I ran out of fingers to count them on. I could wax lyrical for hours about the dramatic darts, calculated checks and terrific tonnes, but I'm sure you'd just prefer the cold hard facts.
In the first game of Round 2 Aeg & Tom once again taught JR & Bennett a lesson with a 2-0 win (Aeg checking 52, Tom checking 20). It started to look ominous when Malcolm & Steen also bagged a 2-0 win against Colin & Johnny (Malcolm checking 8, Steen with a D16 check) but Steve & JR stopped the rot in the 3rd matchup against Yar & Por with a 2-1 victory (JR doubling out 39 & 4).
As Asian Elvis began to burst into song (be sure to check out his act if you're ever in town, he's an enthusiastic performer!) the 4th game saw Don't Tell Mama notch another win as Mike & John bettered Johnny & I 2-0 (John checking 11 & 18) and their rich vein of form continued in the following best-of-3 as Porn & Mick beat Colin & I 2-1 in a close encounter of the darts kind (Mick checking 14 & 18).
Hopes were raised as Ned joined Johnny at the oche for the final doubles game with the scores poised at 5-3 in DTM's favour. Not even Ned could stop the momentum DTM's elite bunch of darters had gathered however, and Phil & Por took the game 2-0 to leave the score at 6-3 on the night.
The arrows weren't over, and several challenge matches took place until well after midnight. I hear some hardy folk even stayed til well after 4am. While the day was centred on darts, the weekend was really not much to do with what happened on the oche. Sticking true to the "fun" spirit of darts, the challenge match did exactly what was hoped – allowed two groups of likeminded (i.e. fun-loving social folk) to enjoy a great evening together while throwing some (occasionally) decent darts.
Another highlight was the rollercoaster ride of Johnny losing his prized possession – his "have you ever seen him without it?" camera bag, and camera! Thankfully a morning of stress and anxiety turned good after the burger joint he'd frequented on his way home opened and gladly presented it back to him. A wonderful result, especially with all these magical photos that might have been lost!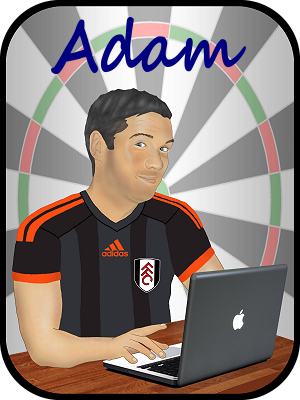 Once again, all of the NCB team would like to offer our sincerest thanks to every single team/staff member at DTM for their spectacular hospitality. Especially we'd like to thank Steen and Bert for the food, the organization of the welcome banner, the Sambuca and for booking our excellent accommodation just moments from the bar – we couldn't have asked for a better spot to rest our weary (alcohol fueled) heads.
We will certainly do our utmost to give you all a warm welcome on your return, and hope to live up to the standard you've set. Bring on the rematch (TBC – circa February 2016)!