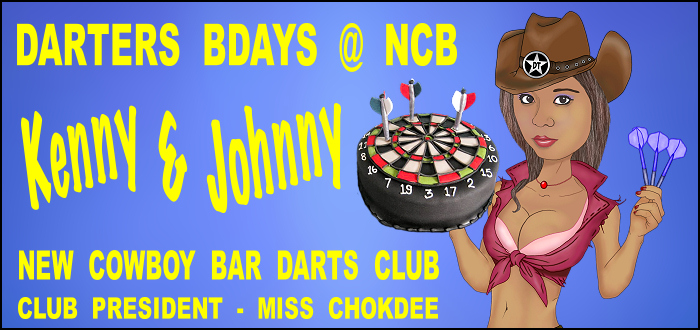 Warm December greetings to all from "The City of Angels" in "The Land of Smiles" – – Bangkok, Thailand. And an especially warm greeting to those of you reading this from a less than warm climate. Remember that the lovely pleasant temps and weather of Thailand is only as far away as your nearest airport.
Team Tia (the ever affable Miss Tia and her co-conspirators) was been completely successful in orchestrating not only one – but two – perfectly unsuspected surprise birthday parties and less than two weeks apart. And I'd bet you an easily won beer that neither target of these two surprise parties could even guess the decade let alone the year that they last had a birthday party with a birthday cake. Well done Team Tia !
Target One – long time friend of Bangkok dart players – KTD (Kenny-The-Dart). Now KTD – the Yorkshire Gentleman hisself – came in for what he believed was just another of our casual friendly nights of darts at NCB. He probably suspected even less as Miss Tia was up-country visiting but – no wrong was he. Miss Tia had every last detail taken care of – contacting all the darts players – insuring that her fine staff would have a birthday cake and even the most minuet detail- the directing of singing "Happy Birthday" with the NCB choir. As Tia usually severs to fulfill this duty – in her absence she wisely selected Colin – knowing as all do the natural musical abilities of anyone coming from Luton, UK.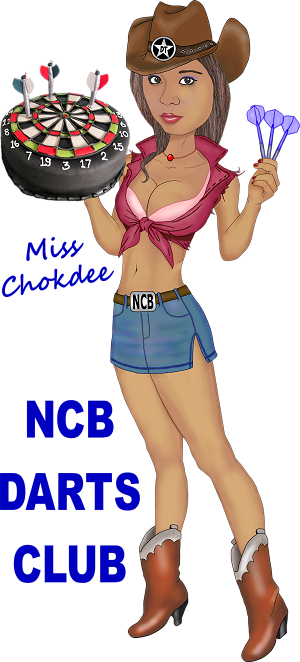 Target Two – the sometimes photographer, sometime cartoonist and always beer drinking, dart playing – Johnny. Now Johnny proved a difficult target in the past as anyone trying to set up a party for him was told – 'I'll be out of town that day'. But Tia only saw the challenge in this one. One of the many things Johnny truly appreciates about the NCB is that he uses it as his office for Dart Thailand meetings as he only lives next door (96 steps away from the NCB draught beer pump). Tia phones him regularly – saying a dart player or players who've read about DT online are here to see you. Even more unsuspecting – the day after a NCB darts event – when Tia rang Johnny saying that dart players are here to see you bring your camera – Johnny naturally responded – 'Okay thanks I'll be down in 15 minutes'. Now that's 2 and 0 for Team Tia if you haven't been keeping track.
The two – hmm shall I say – aging – nah maturing dart players were sincerely surprised and humbled and as both had mentioned their appreciation for all the efforts and value of good friends. Before I sign off on this report – as you can see things are a bit out of sequence on the DT postings. To our good friends Chris and his lovely wife Dee from UK – the report of your visit with photos should be our next posted report. This should be closely followed by the NCB Darts Rodeo Knockout report – and then the yet unfinished DR and US – "On The Road" reports. But please keep in mind that I'm only a cartoon character and not running the show at DT.
Your efficient – "on time" reporter at DT. – Miss Chokdee