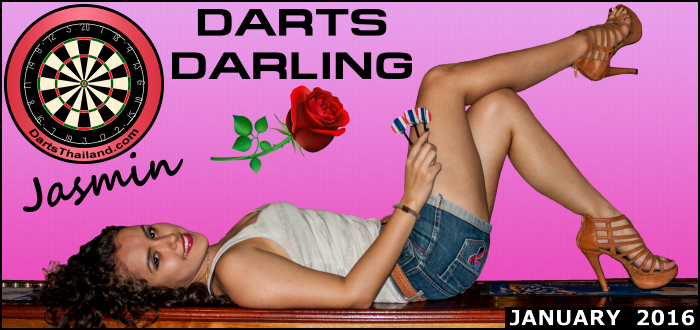 It's our great pleasure here at DT to introduce you to the enchanting Miss Jasmin – our Darts Darling January 2016. Jasmin has a bubbly personality that lights up the whole room when she enters. She's is a skilled darts player but almost to be expected considering that her dad is from UK. Jasmin's first language is Thai as her mom is Thai. Her English fluency is excellent as a matter of fact superior to many of us so-called native speakers here at DT – no big surprise there. I'd also like to say that Jasmin is one of the easiest photo subjects that I've ever photographed. She's a real photo model natural as you can see by photos as she smoothly moves from one pose to another.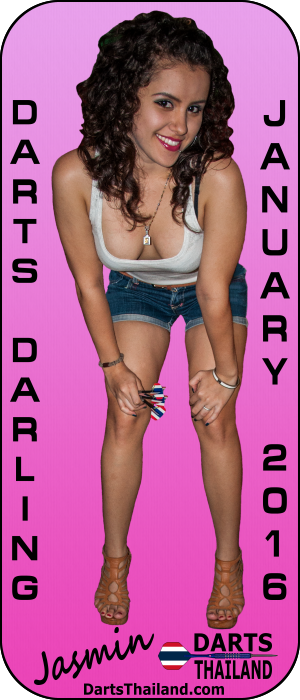 For those of you that have been following us at Darts Thailand for a while – I'm sure that you remember one of our most popular articles from our monthly newsletter – "Darter of the Month" each issue featuring a beautiful darts girl. With our new website layout – we update as we have articles ready to publish and no longer have a newsletter. Our Darts Darling feature will replace the newsletter's Darter of the Month. So does this me you can expect to see a new darts darling each month? Yes – that is most definitely our plan. But as you may have noticed – we sometimes fall behind schedule. We've been told by more than a few that "Better Late Than Never" ought to be our motto here at DT. NOTE – for those interested in seeing prior featured darts gals – you can find all the DT Newsletter from the drop down menu.
Before looking ahead at 2016 I would first like to take this opportunity to personally thank all those who've been such an integral part of DT. The DT Team is truly a team effort that continues to grow and expand resulting in the promotion of our beloved game of darts not only throughout Thailand but world-wide as well. The new year will bring Match II with Captain Steen and the fine folks of "Don't Tell Mama Bar" from Jomtien traveling to Bangkok's New Cowboy Bar where we can only hope to come close to the excellent hospitality we received when they hosted us for Match I in Jomiten. Also planned is the pitting of two long-time Bangkok darts pros – Tom of Buddy's Bar on Sukhumvit Soi 22 will captain his mighty darts team against long-time friend & arch darts rival Ned of the famous Silver Dollar Bar. Sadly as the Silver is now only a fond memory – Ned will captain the proven darts warriors of the New Cowboy Bar Darts Club. Stay tuned as news of these and many more will follow.
Last but certainly not least – we'd like to thank all of you world-wide that follow us. One of the best parts of reaching so many people is when those of you who are fortunate enough to actually visit here and we have the opportunity to meet at the darts oche – play darts – talk darts – tip a few cold ones and socialize. We look forward to seeing all of you again and those we've yet to meet. Remember – no group is too big or small. Contact me and we'll be happy to get the local darts community out to meet you. – Johnny