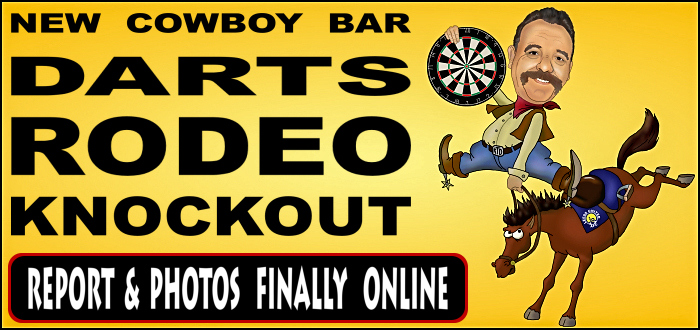 Report Finally Online – The Darts Rodeo Knockout from The New Cowboy Bar is here. So why did the report and photos from this very successful and popularly received Bangkok darts event take so long to get online? Once again – when the incompetence of all my human counterparts at DT completely fails – I'm here (Miss Ting Tong) – to step in and save the day. So with little (nothing) provided in notes on the night – here's my best attempt to bring you this report.
The concept, plus significant financing of this first time darts event – a darts rodeo knockout – is the brainchild of our good friend KTD (Kenny-The-Dart). Also supported by one great darts host bar and our good friend Miss Tia of the New Cowboy Bar & Restaurant. Other than the event name there was little to nothing related to cowboys other than the name of the host bar itself. But there is a bit of real darts history involved here. Kenny, KTD is a skilled, long-time darts player who not only really enjoys the game but takes a real and personal interest in promoting darts. This can be seen on any night you have the opportunity to be on the darts oche with Kenny. He's always there to offer pointers to any newbies and team up with the newest player to darts and encourage them along.
Now here's something for all of you who want to promote the "sport" of darts or dart bar owners who need a great idea to attract new dart players. Kenny being a darts player who loves the game likes to – as he says – give back to the game. This is seen here on DT with numerous KTD promoted darts events. These events are designed for those who do not regularly win the trophies or awards or league accolades. As well – for the most import darts players – those new to our great game. Plus the guys and gals always there to step in and help a team when the "better players" are unable to be there. Kenny's promoted darts events are a time for all these players to shine. Bottom line – Kenny's darts events attracts far more new darts players to the game – most especially at the local level – than any "major pro" darts event.

The Darts Rodeo Knockout was a prize rich event for all dart players as well as those in attendance. As usual – Miss Tia provided a New Cowboy Bar food spread "Second to None". All darts players received a participation medal – all drink buyers received tickets for draw prizes – including a lot of unavailable local darts stuff and a good number of bottles. Miss Tia made sure a good number of "NCB Free Drink" redeemable tickets were dispensed and last but not least – the two trophies on the night. KTD won the 2nd place trophy and CW took home the 1st place trophy.
Sorry – but without any notes – I can't report any other highlights on the night. But I would like to take this opportunity to offer a special DT welcome to first time to Thailand visitors – Donald from Georgia and Jim from Florida. We understand that your visit was especially for this darts event and look forward to seeing both or you back at a darts oche here in the "Land of Smiles". And to anyone "new" reading this – if you or your darts group is interested in a darts event with New Cowboy Bar – please contact my very able colleague – Miss Chokdee – (chokdee@dartsthailand.com) – President of The New Cowboy Bar Darts Club.
That's all for now. I hope that your beer is always cold – your darts always fly straight and hope to personally meet you at a darts oche in the future.
Miss Ting Tong
Special Reporter
tingtong@dartsthailand.com
DartsThailand.com