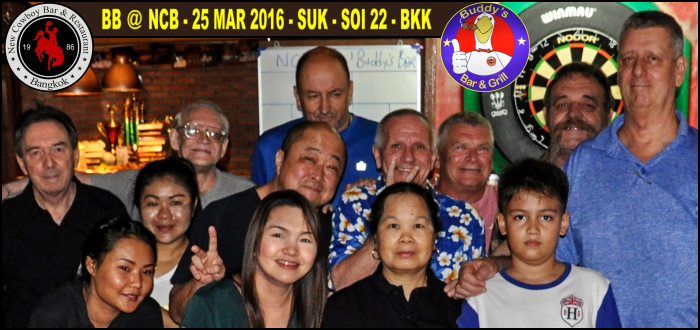 Hi ya darters – near and far: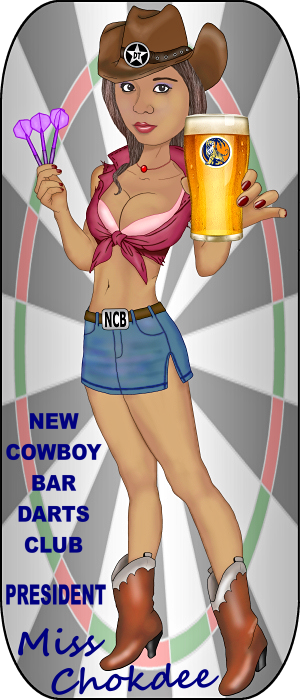 We held our return-match against the mighty "Buddy's-Bar" on the 25th of March in the NCB, our home bar. The home team, having arrived first – as to be expected – held our "warm-up" and our team-talk, led by our draconian team manager "Colin". He made it quite clear exactly "what" he wanted from us and how the evening should go, together with the list of players selected for both the "single-legs" and "doubles". Well, what could we all do, other than listen to his advanced years of knowledge and achievements over the years he has been playing the great game of darts!! Naturally, we took it all in – with ears "pricked-up" and eyes "wide-open", (while downing a few "cool ones" at the same time, of course!!). Not long after our "ear-bashing" the challenging-team of "Buddy's" arrived, but unfortunately with a depleted team, as Gary and Ray were both missing, because the date arranged for this match coincided with a previously engagements on the same date.
" No, problem", said Tom, "I have assembled a team which can hold their own" After traditional greetings and handshakes the singles-teams were announced and to start the evenings heroics off to a "stellar launch", the ever welcoming and astute "Ms. Tia" and the mighty "Tom" squared-off for the first singles game. The format for the games was agreed to be a "single-game knock-out" for all games. Ms. Tia being a spritely and height-challenged 5ft-tall in high-heels, was not-at-all put off by Tom's 6ft6ins towering stature in his slippers. Ms. Tia wasted no time at all in checking out and claiming the first win off the evening!! Tom being the gentleman he is, took-it-all in his stride and graciously congratulated Ms. Tia on her epic victory.
The following singles results were; CW 1-0 victory against Len and with a double-bull check-out.
Steve lost 1-0 against Howie. However, the final singles-game was a win for "yours truly" against Tom's son Callie. Now I must mention that Callie is only 12/13-years-old and has just started playing the great game of darts (By the way, I did not make the draw, in case that's what you are thinking!)
The singles games were a resounding win for the NCB Bar, with a lead of 3-1 going into the Doubles Games!!
The doubles games were all a one game shoot-out of 501.
First game; Mamoru & CW 1 Len & Howie 0
Second; Steve & Kenny 1 Callie & Dad Tom 0
Third; Mamoru & Kenny 1 Len & Tom 0
Fourth; CW & Steve 1 Howie & Callie 0
At the end of the singles and doubles games NCB were up by 7-to-1.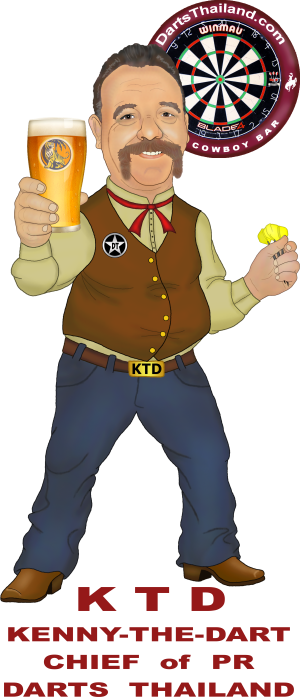 The Team Game was one game of 1,001 – with all players from both teams (that is, all those who could still stand) were all "penned-in" to end the night. Buddy's Bar really came out fighting and all the NCB team could do was "watch-in-awe!!" as the points came off thick-and-fast, with a "double- check-out" for Buddy's, while NCB were still on "300-and-something". Well played, lads!
It was "a great night of darts and quaffing of fine ales" and one that will have to be repeated.
Tom rang the bell at the end of the night as a "thank you" to everyone for taking part and coming in to be a part of a very enjoyable evening. Thank you all for a great night!!
PS. For those not aware of pub-customs, bars in Thailand also have a traditional bell hanging over the bar and if you ring it, it means you want to buy everyone in the bar a drink, including all the staff!!
Drink heartily and aim true. KTD