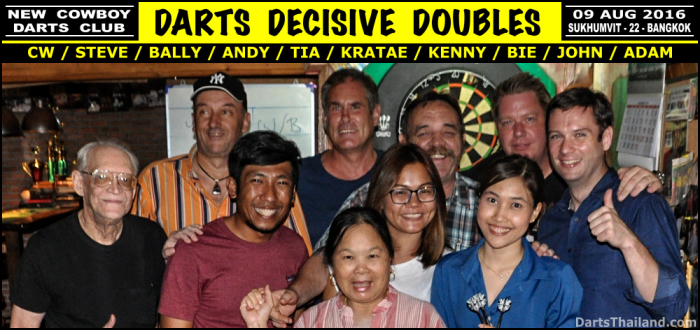 The oche at the New Cowboy Darts Club continues to be one of the busiest in town with yet another impromptu gathering of darts players on Tuesday 09 August. You can expect to find a pick-up game even on the fewer nights where a last minute group of regulars are not already out to play and knock back a few beers. If you're a regular visitor to New Cowboy or a first time visitor let us know on one of our FaceBook pages. We'll get the word out and have as many regulars who can get out – join you at the oche.
Was great again to see Big John again who stopped in on his way to the UK. Knowing he'd be there – Adam and the lovely Miss Bie were also in attendance. Steve, Kenny and Johnny were also there with darts in hand – soon after joined by the ever-youthful CW. Soon after the darts began to fly we were then joined by Bally and his lovely wife Kratae. Four doubles teams were formed and it was all Game On !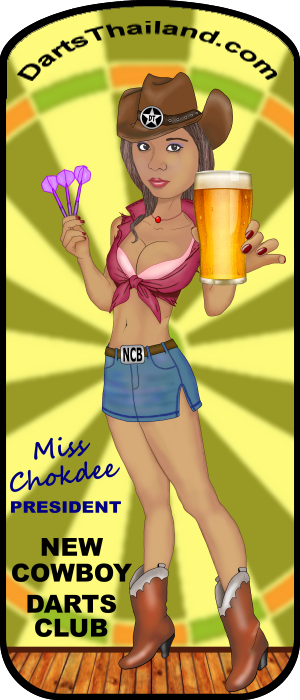 As president of the the New Cowboy Darts Club – I would like acknowledge a truly outstanding individual – Miss Tia. She's the one who is always more or less in the background but making sure that a spot-on – 'second to none' darts environment continues to exist at New Cowboy. Dartboards are replaced before anyone needs mention it – pub grub always appears just at the right time on any given night – not to mention fine food spreads provided at all major darts events. More players have noticed this lately as Miss Tia has gotten back in the 'player mode' being a surprisingly skilled shot. What amazes so many is how she can keep score while overseeing the kitchen orders and overall operation of the floor – staff and drink orders – then – step up to the oche and score well. We salute our darts heroine at the New Cowboy Darts Club – Miss Tia.
One additional note – some have questioned if the operation at "New Cowboy Restaurant" is the same now that they are no longer allowed to use the word "bar" in any advertising due to the enforcement of Thai law and their close proximity to a school. The answer is "YES" – although alcohol sales are now prohibited between the hours of 2 PM – 5 PM. But there is no change to any operation of darts other than now being called the New Cowboy Darts Club. The darts and brews flow as usual and as always we hope to meet you at our darts oche !
Miss Chokdee
President
New Cowboy Darts Club
chokdee@dartsthailand.com