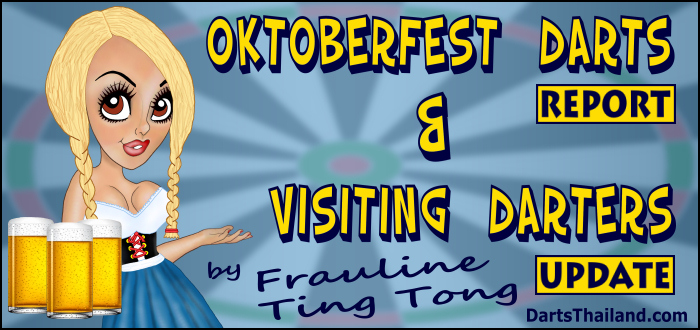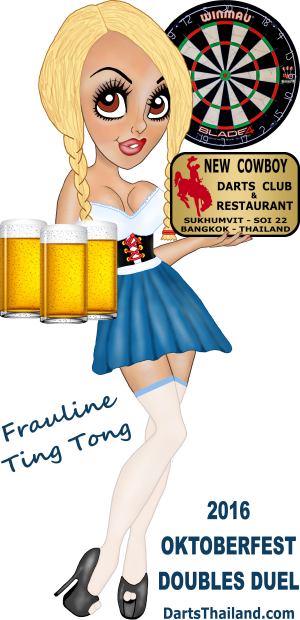 Autumn brings with it Oktoberfest which was reason enough for the players at New Cowboy Darts Club to hold an Oktoberfest Doubles Duel Tourney. Regulars CW, Bennett, Howie, Jay and Johnny were happy to welcome for the first time Tim Graham, a handy local darts player. Also joining us for the first time was a most skillful player visiting all the way from Seoul, Korea – John McCrarey. Not surprising – a talented player like John is a player in the Seoul International Darts League which is always of particular interest to CW and Johnny as both have played in that league years ago. Over the years – we've enjoyed visits from our fellow darts enthusiasts for Korea and look forward to more in the future and with your "winter season" quickly approaching maybe even more of an incentive for an over due visit to Thailand.
Some good darts were thrown by all but the doubles duo of John & Bennett proved to be the winning team on the night with the cherished prize of authentic imported German Bier – one pint apiece to our winning doubles team. John was also selected as the night's MVP (most valuable player) getting the opportunity to don the esteemed New Cowboy MVP Darts Hat. Betcha ya ain't got one of these in Seoul ! Even more reason for any serious Seoul darts player to visit. As always many thanks to Miss Tia and her excellent staff for putting on this event and some great Thai style German pub grub. Miss Tia also presented our two first-time visitors with a "Miss Tia Ticket" good for a free drink on any future visit.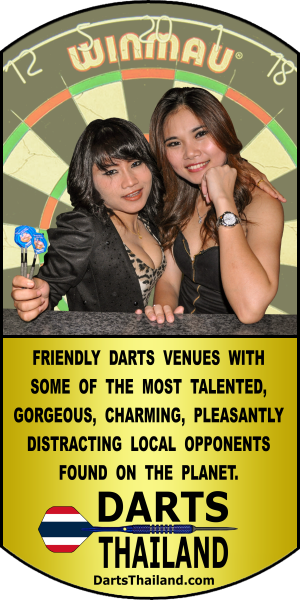 We've had an increased number of visitors lately some due to the recent regional major darts open events – the PEA Darts Open (08 – 09 Oct) in Bangkok and the Malaysian Darts Open (14 -16 Oct) in Kuala Lumpur. It's always our pleasure to welcome new as well as our returning visiting darts players to the New Cowboy Darts Club – an opportunity truly looked forward to by our regulars.
In our last DT article we welcomed Peter Rushby and Danny Golden from Leeds, UK among others. We were happy to see Peter and Danny return to Bangkok after the Malaysian Open and pop in and pay us another visit one evening. Peter is no newbie to darts in Thailand having played in every Thailand Darts Open and winning it one year to be followed by John Lowe the following year. It was Danny's first visit to this part of the world but it's a really safe bet of a pint of beer that this skilled player will be back as well as Peter. After all – sure they want to eventually collect on their "Miss Tia Ticket."
Our most recent visitors were Gary and Amon Sinnott and family. Gary is another darts player that Johnny has been corresponding with for years via FaceBook and this evening they finally got to meet each other in person. Gary and Amon run the famous Scully's Korong Vale Hotel in Korongvale, Victoria, Australia – which naturally houses a great darts venue. Gary was also an integral part of the Loddon Darts Association. We had a great time on the night and look forward to your next visit. The reputation of good darts at New Cowboy was upheld by our own CW – not ever claiming to still be skilled at the game – but always a real clutch player when needed and the pressure is on!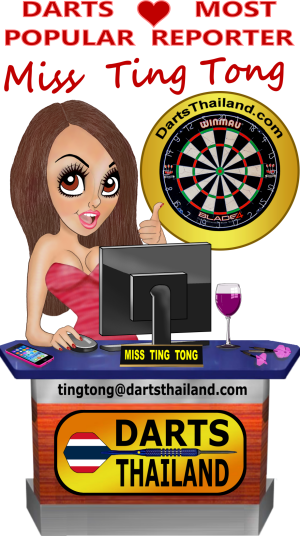 For some time – Gary and Johnny have been discussing the possibility of a friendly challenge darts match between Scully's and New Cowboy. I know you're thinking – "No Way" – Johnny's challenged enough with the logistics of friendlies with "Don't Tell Mama" in Jomtien Beach or even Buddy's Bar down the street. But they're looking at a match via skype including cameras. Hmm all very possible. We sure do hope this becomes a reality, Gary with the New Cowboy Darts Club taking on the mighty team from Scully's. I'll be sure and keep you updated.
That's about all for this update but before I sign-off let me remind you that if the weather is snowy and miserable cold where you live – remember that you always have a warm home at the New Cowboy Darts Club where the only thing cold is the beer. Be sure and give us a holler if you're headed our way or anywhere in Thailand. If headed to Bangkok we'll do our best to get the locals out for some darts – if traveling with a group – we'll set up an event. And anywhere outside Bangkok we can introduce you to someone happy to show you around the local darts scene.
Miss Ting Tong
Darts Thailand's
Reliable Reporter
tingtong@dartsthailand.com