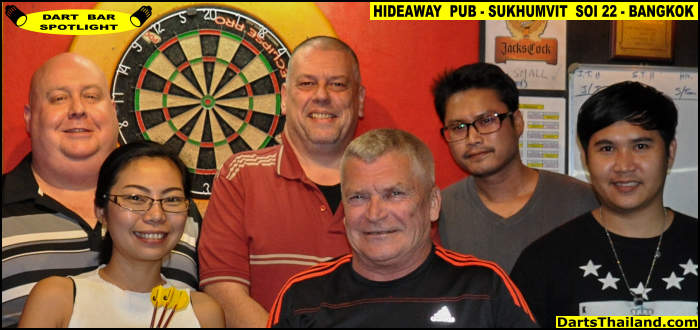 Greetings Dart Players Worldwide. First let me wish you all the best for a Happy, Healthy and Prosperous New Year. In 2017 we will be bringing you new & expanded darts coverage. This article is the initial report of my new series "Miss Ting Tong Presents – Dart Bar Spotlight" which will introduce you to all the active dart venues I can visit – bringing you all the info we can on where to find the local darts action here in Bangkok and throughout the Kingdom of Thailand. In conjunction – my less than punctual partner, Johnny – will also be finally updating DT's dart venues list or so he claimed.
My first spotlight article led me to Hideaway Pub in Queen's Park Plaza on Sukhumvit Soi 22 in Bangkok. As you enter the plaza – Hideaway is in the back left-hand side of the plaza. No worries finding it for those of you thinking about some the large plazas here. Even if you miss it on your first roundabout the plaza you'll be sure to find it your second round – within five-minutes. Easy enough – just look for their easy to see sign – pic in our photo gallery.
Hideaway has been a popular darts venues for many years with a continuous regular and growing clientele. Long time Bangkok publican – Jack is the owner of Hideaway. Kind of strange – although when talking to Hideaway patrons (chocker-blocked on the night I called in) – all had kind words said about Hideaway & Jack but I could not find a single person who would say a positive thing about Jack's dart game? I did see some some great darts played by some highly skilled players – Howie being the top player. It should be noted that Howie did buy be a drink to mention that fact.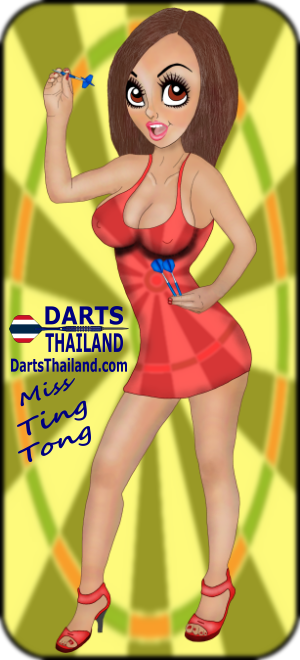 For those of you unfamiliar with the average size of many bars & pubs in Thailand – they are substantially smaller than what you may be accustomed to seeing. I mention this as Hideaway is one of these – meaning that they have a darts throw as well as a pool table – but only one-at-a-time being able to be used at the same time. Hideaway has league pool teams as well as league darts teams. So if not a local – best check and see which league night may be playing a home game. Now we can't tell you anything about the local pool leagues but we can give you info about a FAQ we receive here at DT.
Does Bangkok have an active darts league?
Yes, it does. Sukhumvit Fun Darts League
NOTE – At this time they do not have a
website, FaceBook page or web presence.
BUT – They do have a Point of Contact.
Jack – from Hideaway Pub – Queen's Park
Plaza – Sukhumvit Soi 22 – Bangkok
MOBILE – 08-600-18496
EMAIL – ANTONMAREK@GMAIL.COM
LEAGUE PLAY – Tuesday Nights
FORMAT – 3/Singles – 2/Doubles – 1/Mickey Mouse
No Entry Fee & Visiting Dart Players Welcome
7 Home Bars & 10 Teams
(info available as a graphic in photo gallery below)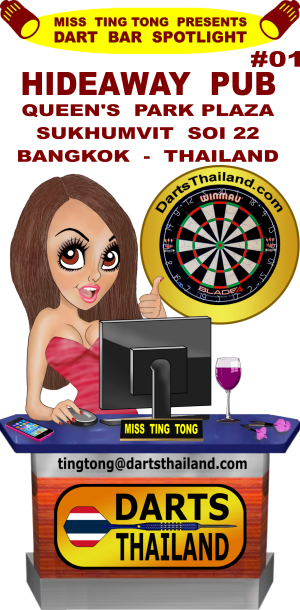 Meanwhile – local darts pros Kenny & Colin were still nowhere to be found . Were they okay, kidnapped or had meet with some kind of foul play? Nah, nothing negative like that. Seems that they were waylaid with a pool challenge from some attractive lasses from Hangout in the plaza. Being the chivalrous, distinguished gentlemen from Yorkshire and Wales – a formal pool challenge shall not be run from in fear. After all – our darts heroes' honor was at stake. I won't mention who won the pool challenge but it sure did seem to me that Hangout's attractive lasses had a good number of victory drinks lined up before them. The attractive lasses of Hangout are seriously considering hanging a dartboard on their wall. Be sure and plug this if you're lucky enough to call in on Hangout.
This concludes my first darts spotlight report and looking forward to bringing you many more. Be sure and call in on Hideaway if you have the opportunity to visit Bangkok. And as we always mention – if you have the opportunity to visit Thailand for either holiday or business – be sure and pack your darts. We'll be happy to set up an event for you or your group in Bangkok or if outside Bangkok put you in contact with the local darts enthusiast. Looking forward to meeting you at the darts oche !
Miss Ting Tong
"Dart Bar Spotlight"
Darts Thailand