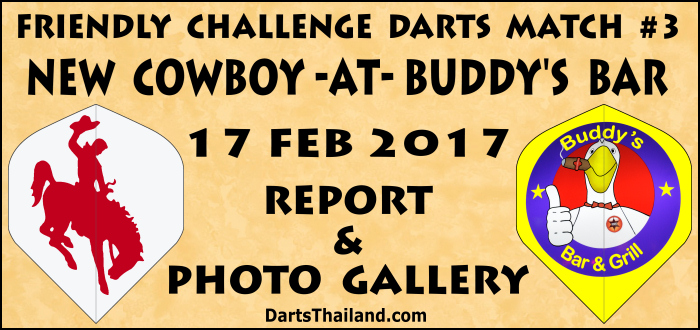 Greeting darts players – happy to bring you this newest report of the continuing friendly darts challenge series between Buddy's Bar and New Cowboy. As those of you familiar with the Bangkok darts scene already know – these venues are popular friendly neighborhood pubs with excellent food menus. For those new to Bangkok – check 'em out for yourself and you will find a venue you'll consider your regular.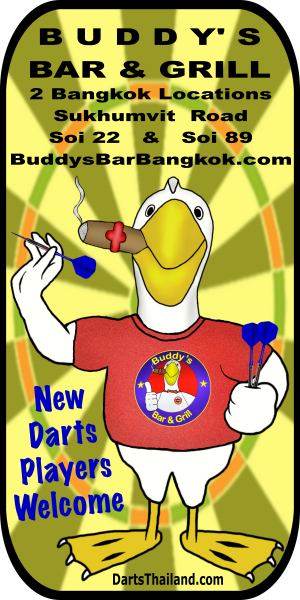 Match one was at Buddy's on Sukhumvit soi 22 – match two was at New Cowboy also on soi 22. Now with match three it was Buddy's turn for a home match. For many that already know Buddy's on soi 22 – some may not yet be aware that Buddy's Bar has a second Bangkok venue located on Sukhumvit soi 89. Map can be found on the the following photo gallery as well as maps to both locations on the Buddy's Bar website – BuddysBarBangkok.com
Buddy's Bar on soi 89 has been open for a few months but the New Cowboy team had not yet played a darts match there so it was selected as the venue for match three. Well worth the jaunt down Sukhumvit Buddy's second location is much like their original operation – a popular local  pub with Buddy's famous menu. The visiting New Cowboy team had the added advantage of adult supervision as Miss Tia lead the team herself.
Match three of this popular challenge series continued the custom of pitting the bosses (NC's Tia vs. BB's Tom) against each other for the first singles game. The score from our previous meetings had been one victory each – at their own home venue. Tom continued this with a victory now being one win up. Upcoming match four will be interesting as Miss Tia very rarely looses on her home venue dartboard. Call me bias but I got a beer bet that says Miss Tia will be the victor at match #4.
The ongoing debate of Buddy's Bar patrons about who really is "The Best Buddy's Darts Player" will finally be resolved with a darts winner take all – bragging rights – showdown. Yes, the much awaited contest between LEN vs. TOM is in the planning and this tourney date will soon be announced. Like Buddy's popular football pool – this darts showdown will have a board of squares to select available. Square selections will include "high score" – "tons" – "ton plus" – lowest throw" & many more. Stay tuned for updates on this Buddy's Bar Darts Showdown.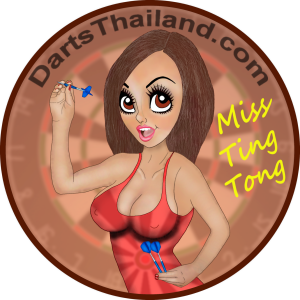 The date for our Friendly Challenge Darts Match #4 has been set. Buddy's Bar will visit New Cowboy on 24 March 2017 – Friday – 7:30 PM. Another great night of darts with two great darts teams and friends. Hope to see one and all for this event.
Good Darts !
Miss Ting Tong
"The Responsible Reporter"
DartsThailand.com