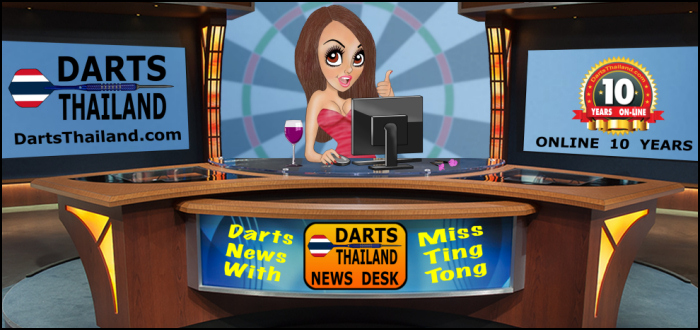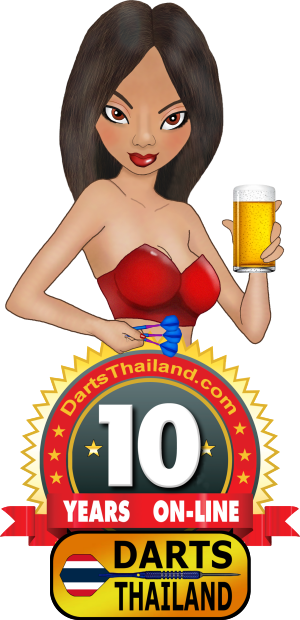 Greetings one and all and welcome to the Darts Thailand 10-Year Anniversary Report. DT's wide variety of so many contributors over the years makes it what it is – an ever evolving entity that was ill-planned with little or no direction that continues on the same course today. But what else would you expect when a Jazz trumpet player by trade is responsible for its organization? Thankfully the positive flow from our contributors' articles and reports keeps DT alive & well. Articles on DT are not from one source but from many – both locals and from those around the globe. And although we're not one of the centers of darts on the planet – the Kingdom of Thailand is one of its top travel destinations. One of our major goals is to provide visiting darts players with as much info as possible on where their nearest happening darts oche can be found.
Popular requests to us ask for short articles and lots of photos. With this in mind – this report will be about DT's history. Yes, we did begin as a sub-site of our now gone and greatly missed LSDL (Lower Sukhumvit Darts League). The LSDL will be featured in a future report. Also an article remembering all the deceased friends that we were fortunate to know and spend time with at the oche. Also re-publishing some of our more popular articles and interviews – along with a user friendly menu for finding particular articles (especially on our old website section) are on all in the planning.
DT's START – I've always enjoyed photography and starting Darts Thailand was a great way to publish pics of friends having a good time playing darts. Graphic arts was another interest and with little to no darts graphics available online – I started drawing darts cartoons. These things I really enjoy – however there is another major component that I hate – the IT website building part. Ah it was at this time that I met my now long-time good friend Keiran Brown. He is not nearly as interested in photography and far less in cartooning. However I've never met anyone with such an interest with the interworking of computers, web building and IT in general. After major upgrades to the DT site – Keiran would try to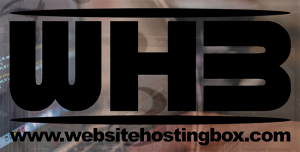 explain to me in layman's terms the dynamics of an improvement. My response was always the same – "I'm lucky if I comprehend 20% of what you said – but I'll buy the next pint if you don't try and explain it again."
Nowadays Keiran and I enjoy a beer together via skype as he and his family have relocated to Ireland. Keiran's contributions to DT are as much today as they were from the get go. Not surprising – Keiran runs his own successful IT company – WHB "Web Hosting Box" found at WebHostingBox.com and well worth a look if you're in need of developing or upgrading a webpage.
DT was now off and running but mostly as a darts site known only to locals. This changed in a big way after we met our good friend Paul "Dartoid" Seigel – popular online columnist since 1995 and featured world-wide in darts publications. Paul is responsible for putting DT on the world map introducing us to darts people including pro players, writers, reporters and all types of darts enthusiasts from around the globe. Our first big time interview with John Lowe was directly set up by Paul. While sitting at Silver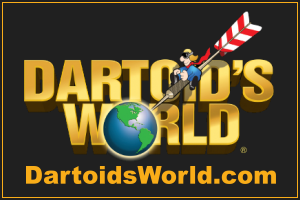 Dollar Bar – Paul knew John Lowe happened to be in Phuket visiting his good friend David Brook and phoned them. This resulted in a great interview by David Brook.
Paul is a regular visitor and we look forward to his next trip. Now you can not put a darts challenge to Dartiod that is not bravely accepted. These include "Osmin The #1 Thai Darts Playing Elephant" and taking on all Thailand's Top Darts Ladies – both these events found on DT as well as DT video productions. "Dartoid's World" is Paul's site – check it out and you too will become a regular -PLUS- you not only get Paul's enlightening, entertaining columns but also "Toeing the Oche" by the Old Dart Coach – Howie Reed. And you may also notice the popular "Double Out Shot" pic. Paul's "Dartoid's World" is found at DartoidsWorld.com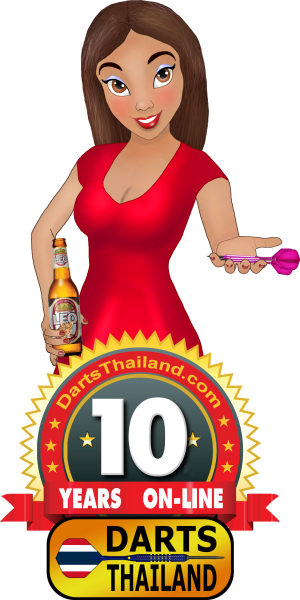 Phil "The Power" Taylor – Bangkok Interview by DT reporter Damian Hardy. For making this possible we thank – Vichai Govindani – President of TDA (Thailand Darts Assiciation). Vichai also introduced me to Unicorn's Richard Lowy – resulting in his contributions to DT. In 2009 Thai darts history was made by our good friend Rob Heckman – born in Thailand and having a Thai Mom – thus eligible to form a Thai Team. From Rob's DT report – "thanks to the TDA & Mr. Vichai for sending over Giffy, Nattakhom and Thanawat (Yong) to help me represent Thailand in the FIRST EVER showing of a Thai Team in the Asia Bullshooter!"
My original plan was photos in a gallery that tell the story with text with less words here. Hmm, failed on that one. But I'd be remiss by not thanking our great Asian darts neighbors – Seoul International Darts League – Saigon International Darts League – Penang Sports Club Darts Team & Hong Kong Darts Association. Also our Thai Open history pic – the 1st Open Poster from Paul Seigel sent to him by "Duds" Cansana from the Philippines and the 4th Open Program Cover provided by our own DT historian – Peter Rushby.
A common misconception about DT is that we only report on steel-tip darts. Nope – we report soft-tip darts as well but there's far less of that here to be reported. Even though – Thai Darts Ace – "Yong" Thanawat Gaweenuntavong – took top honors at the most recent 13th ADA International Darts Tour 2017 in Hong Kong – and Thailand has many rated soft-tip players – – soft-tip venues here are far and few between. More on that in an upcoming article. Ah, and not to disappoint you intellectual types from our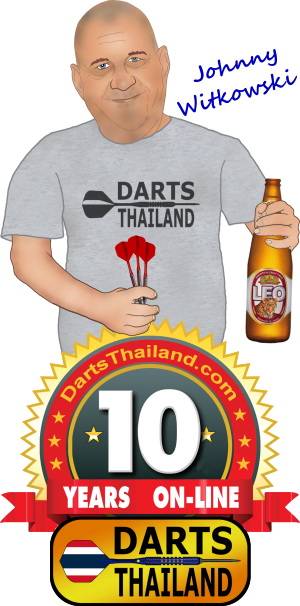 reader base – I've included a Thailand Darts History Quiz pic near the end of the accompanying photo gallery.
FOOTNOTE: – What makes DT different from other darts websites? Our major goal is to provide you the reader with as much information as possible about the Thai darts scene and finding our – darts venues – regular local darts events – leagues that welcome visiting darts players – and Thailand's major darts events. Local – grass roots? Yes, that's why we do not have a news feed to the worlds major darts news – or report such news unless of course one of our Thai players is involved. DT is an independent darts news source. We do not accept advertising nor are we affiliated with any darts leagues, organizations or associations. Our reports are from darts players – calling it as they see it with no influence from controlling advertisers or organizations. Our contributions are from the best people – from here and from around the world – darts people.
Hope U like the pics I picked.
Johnny Witkowski
DartsThailand.com