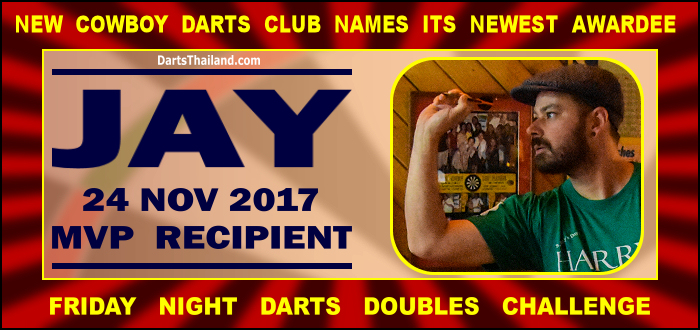 Hello darts enthusiasts. We here at the New Cowboy Darts Club are proud to announce the latest addition to the dart world's most elite group of dart players receiving our MVP Award. Congratulations – Jay – for your demonstration of darts excellence. The MVP (Most Valuable Player) is only awarded to those who distinguish the highest level of darts proficiency recognized by peers and by vote of those peers.
Joining us a few moths ago – Jay is a welcome addition to our darts community. Jay comes here after proving his skill at the darts oche in Seoul, Korea as a member of the prestigious Seoul International Darts League. (seouldarts.leaguerepublic.com) Our darts community has long enjoyed a friendly relationship with the great folks of the SIDL and our meetings at the darts oche over the years. Yes – we're way overdue for a visit to Korea and the fine darts bars in Itaewon, But it is safe to say that won't happen – actually never happen – during your winter wonderland season. However we do so much enjoy viewing your photos of snowy scenes – on computer from here while knocking back cold adult beverages.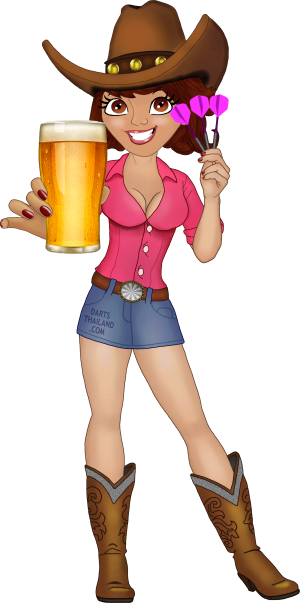 We at the New Cowboy Darts Club always enjoy meeting new and visiting darts players. If you or your group plan on being in Bangkok and are looking for a darts event – be sure and contact us. We'll do our best to accommodate you or your group. The earlier you give us your dates the better we can accommodate and set up an event or events. Our current POC (point of contact) is not what anyone considers efficient – but he tries. Many even say he's very trying.
In closing
again
"Congratulations"
Jay on your fine
darts accomplishment.
Miss MaoLaew
President
New Cowboy
Darts Club