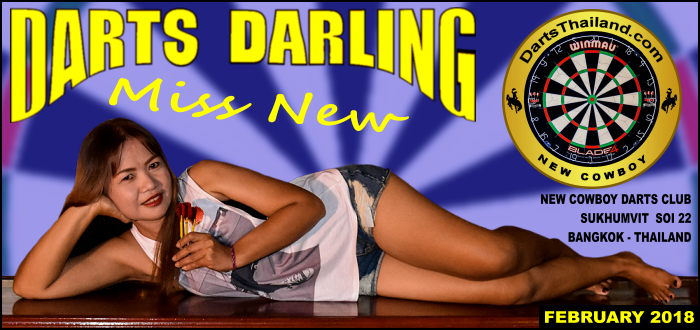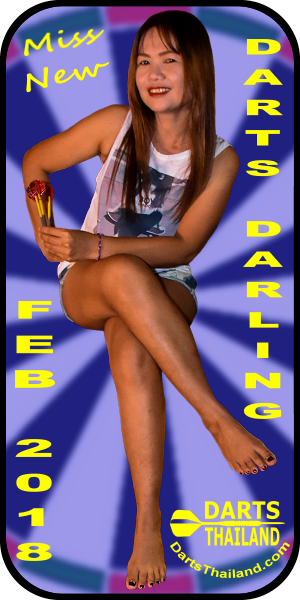 This month's Darts Darling is khun New – not Nu as a certain person from New Jersey (who shall be nameless) insists. The lovely and popular miss New can be found any night at the New Cowboy Bar and Restaurant on Sukhumvit soi 22, where she will be happy to serve you a drink or meal along with one of her famous smiles. I feel it is unnecessary to extol her lovely appearance, as one glance at her pictures will speak for itself. Suffice it to say that her radiant smile is matched by her good humour and friendly manner.
New is from Si Sa Ket, which is in the North East Isaan region of Thailand. Si Sa Ket province is famous for its many Khmer Empire era ruins dating back more than a thousand years . It is also the home of Wat Larn Kuad, the beer bottle temple. The temple's construction is novel, it is built from bottles, bottle caps and concrete. New tells me that she has noticed some regulars at New Cowboy purchase several bottles of beer from the Seven-Eleven opposite every night to take home with them. She wonders what they are building at home with the empty bottles!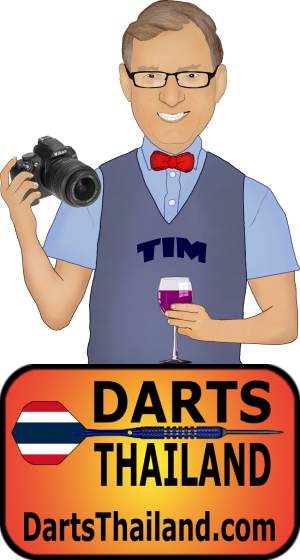 New is a member of the New Cowboy darts team (darts score 100), in fact she has a long association with New Cowboy, having worked here before taking a few years sabbatical and then returning. She said she could not resist the lure of returning because darts people at New Cowboy are so friendly.
Her favourite meal is Tom Yum Gai (spicy chicken soup) and of course she also likes Som Tam papaya salad especially the Isaan variety (extra spicy and with the addition of tiny land crabs). Surprisingly perhaps, her favourite football team is Buriram United rather than Si Sa Ket's own team, but Buriram United is after all Thailand's leading club.
Tim
(Timmy Olsen)
Photojournalist
DartsThailand.com

Editor's Note – To you long time followers asking if the lovely Miss New was featured earlier on DT – the answer is yes. You are correct. Good eye. Her previous article with pics can be found at the following link. – http://www.dartsthailand.com/volume__008.htm