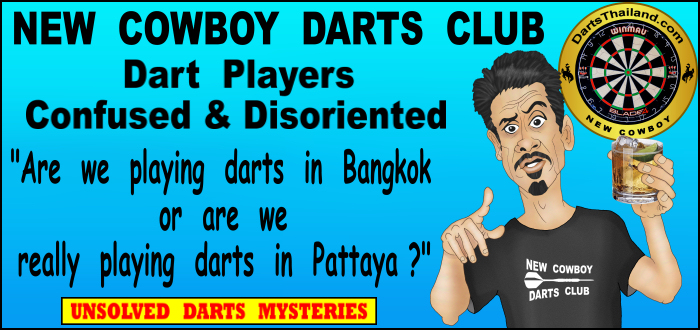 As our headline banner states – "New Cowboy Darts Club – Dart Players Confused & Disoriented" is hardly worth mention let alone worthy of any discussion as most would agree that this broad claim or maybe even "statement-of-fact" would most surely include – some, most or even all the players – at this fine darts venue to be an undisputed truth. But this general state of confusion was greatly heightened after reading a "Bangkok Jack" article and learning that their favorite local and darts venue is actually in Pattaya. Click link for the Bangkok Jack article – http://bangkokjack.com/2018/02/05/pattaya-police-shut-expat-darts-leagues/
Below is a screen shot of the Bangkok Jack article.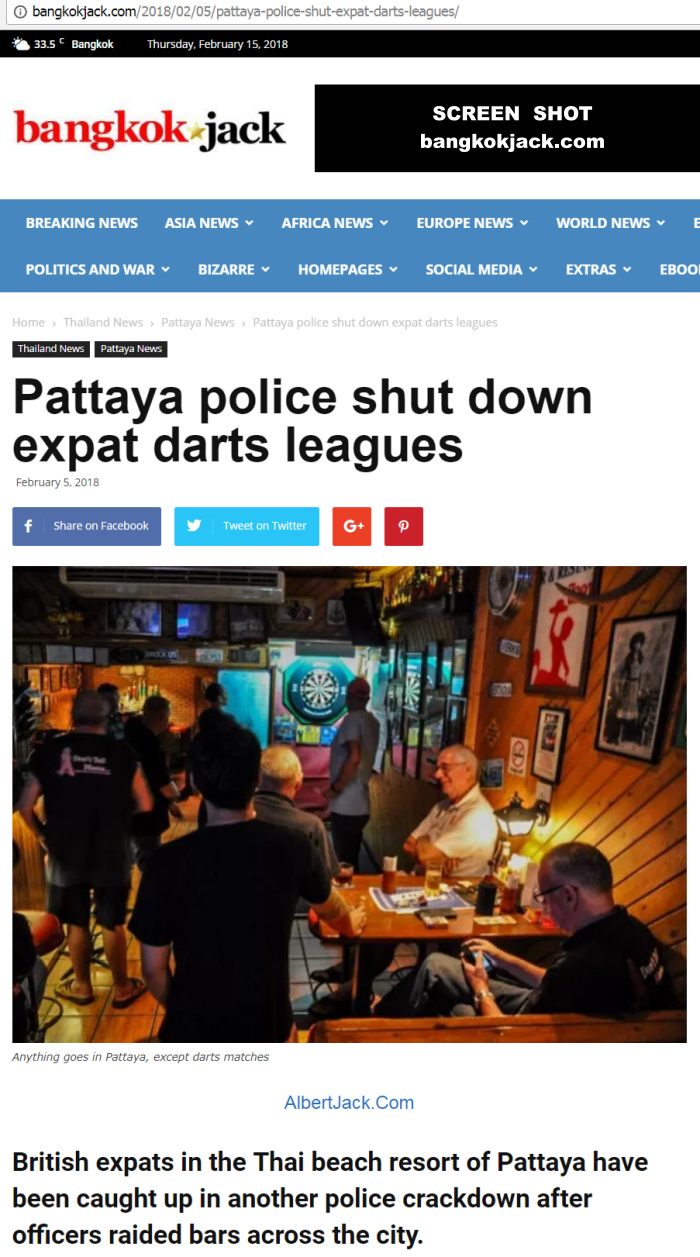 As the DT special investigative reporter – I tried to get the reaction of some New Cowboy's darts players. But most is-off-the record as many of the guys said they didn't want their wife – or others girlfriend – to find out they were in Pattaya rather than down their local for a few beers and some friendly darts. DT photographer Johnny said he was happy to learn of the actual location of New Cowboy. "For many years I though I was only walking next door for a few pints when actually I was walking about 100 kilometres (62 miles) one-way to Pattaya." Long time New Cowboy manager the ever affable Miss Tia said – "I always believed I was working in Bangkok but I guess not. If it's on internet – it's got to be true."
The photo used in the above screen shot is actually of the darts throw area in New Cowboy on Soi 22 Sukhumvit in Bangkok. The event was "Darts Friendly Challenge" Match 4 on 13 Aug 2016. Click the following link to see the original article with photo gallery (including the original pic used in the Bangkok Jack article) – http://www.dartsthailand.com/2016/09/09/darts-friendly-match-4-by-johnny/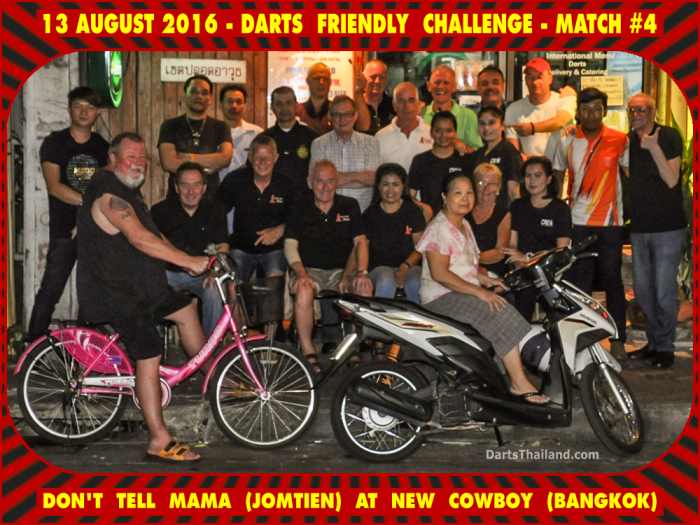 The fine folks from Don't Tell Mama in Jomtien and New Cowboy Darts Club have been enjoying this friendly match series for some time having now played six matches with number seven now in the planning – to be held at DTM – one home one away. The event is purely a social gathering with all enjoying some fun darts – the only serious competition is between the two great host venues trying to outdo each other with great food and adult beverages. The only prize is bragging rights which isn't even much of a factor as most can't remember who won or lost only that a great time was had by all.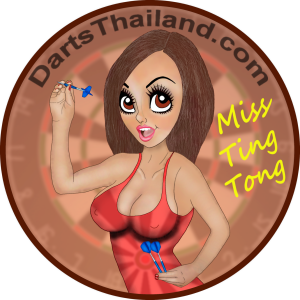 The New Cowboy dart players remain confused and disoriented unsure of where they are playing darts. As Dorothy said to Toto in the classic movie The Wizard of Oz – "We may not be in Bangkok any more, Toto." If you think you know for sure where New Cowboy is located and would like to share your observations – please join us on our DT FaceBook discussion page at the following link – https://www.facebook.com/groups/dartsthailand/
Miss Ting Tong
Investigative Reporter
DartsThailand.com