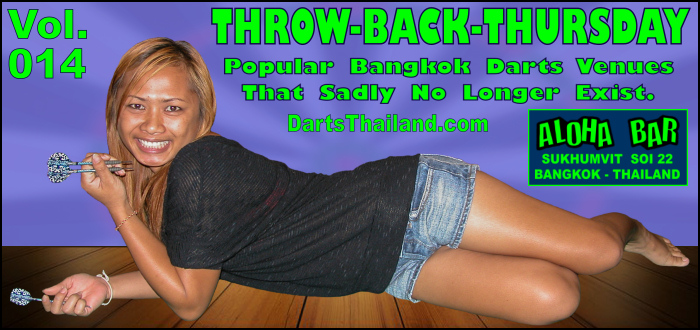 Welcome to our latest TBT article as we feature popular darts venues that are no longer in business. This time we look back at Aloha Bar which was located on Sukhumvit Soi 22. Aloha Bar had a good run in its time but no where as long as many of the other watering holes on Sukhumvit Soi 22 – especially those in Washington Square and the later addition of Queen's Park Plaza. Now all of these are only pleasant memories for those of us lucky to have known them.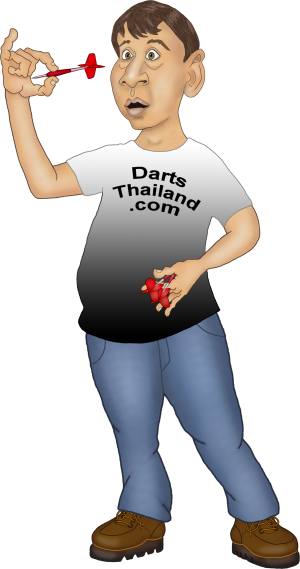 For those of us who knew Aloha Bar – I think that we can all agree that the success of this business was largely if not totally due to its owner/publican the vivacious ever affable Miss Charinee. She set up an atmosphere and vibe that attracted all, darts players as well as non-darts players. Their darts throw area became a point of focus in the bar. Of course, this not having anything to do with the skilled, yet very attractive gals stepping up to their oche.
Miss Charinee, along with Miss Jeaby from Corner Bar in Queen's Park Plaza were definitely two of our strongest supporters & contributors – not only in our darts leagues but to all darts events. It was a great thrill when we were able to finally give back to them their own major Bangkok darts event. Always the darts event innovator – Kenny Illand – KTD (Kenny-The-Dart) along with Kap Kerian (the IT guru who ran BKK darts and keeps this site going) and meself, beer drinking, Nikon darts shooting enthusiast created the first and only Bangkok "Yorkshire Tri-Bar Darts Open."
52 Bar, then in Washington Square, Corner Bar then in Queen's Park Plaza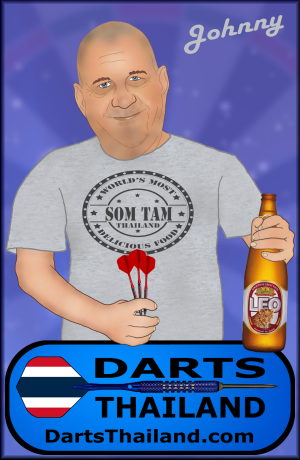 and Aloha Bar on Soi 22 is where we able to include all of these smaller venues to create a big one event. Preliminary events at B52 & Corner Bar then move down a short distance to Aloha Bar for the final play-off comp. Frequently asked how to organize darts events in smaller darts venues – get local darts bars to mutual cooperation and share the wealth.
If it wasn't a darts event – there was always one kind of party or another going on at the Aloha Bar. You can see this with the photos in our accompanying photo gallery. Looking back we do see some friends who are now longer with us. And as always, I hope that these pics bring back some pleasant memories for you. I still have a few more darts venues to feature in this TBT series. Then I look forward to reporting our overall post virus positive rebound not only darts but overall tourism.
Until next time, stay well & good darts ! – Johnny