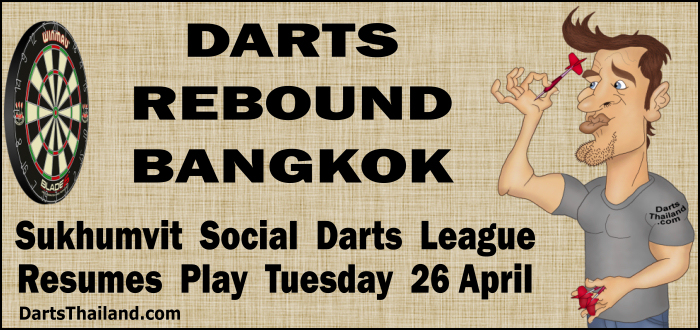 Happy to report that the Sukhumvit Social Darts League will resume league play on 26 April. Opening Season Party – Tuesday April 19 – 7:30 PM at Buddy's 89. After a long period with virus restrictions – darts players look forward to a recovery period and getting back to normal life. DT's goal is to provide you the reader with as much information about this league as possible – league venues info & league POC (point of contact) info.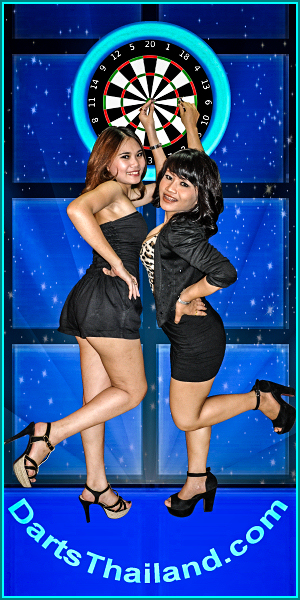 Thanks to Jack of Hideaway Bar for this most recent league captain's meeting recap of 05 April. Eleven teams were announced. Hideaway – Scruffy's (2 teams) – Hot Spot – Keep in Touch – Clubhouse – Moonshine – B52/New Cowboy – Buddy's 89 – Blarney Stone – Bally's Team N.N. (possible team & yet announced venue). Also long time BKK darts pro Eoin of Blarney Stone joins Jack as co-official points of contact (POC) of this league.
Jack's venue "Hideaway Bar" formally of fame in the now defunct Queen's Park Plaza. Hideaway is located on an alley off Sukhumvit Soi 33. If you're looking for it for the first time – check out the map in the accompanying images. No problem finding it if you know where to look. If you're a first time visitor to Hideaway or any others in this article – please mention that you found about them there here on DT. Help us get out the word about active darts venues in Bangkok.
Eoin's venue "The Blarney Stone" is located on Sukhumvit Soi 04 – actually one of his two Blarney Stone venues. Our wholehearted welcome & congratulations to Eoin and his new Blarney Stone venues in these difficult times. Both Jack of Hideaway and Eoin of Blarney reply promptly to FB messenger inquires. Blarney Stone's Soi 04 is easy to find and well worth a visit. In-house darts pro Eoin is available for darts instruction, inquire at the bar.
Next we look at "Keep In Touch Bar" which is located on an alley off Soi 22 across from Makro Food Service. Check the map in the accompanying images to easily find this darts venue. Keep In Touch is run by the lovely and always affable Miss Apple. Also a skilled darts player, Apple had a great series of informative darts videos. Look forward to seeing more of these, Miss Apple.
Up Next is "Buddy's 89" which is one of the four Buddy's Bar & Grill venues in Bangkok. Check out the location graphic to easily find them. A bit further down Sukhumvit Road it's well worth checking out. Buuddy's 89 darts throw is busy one even on non-event nights.
Up next is "Moonshine Pub" a popular, long established Bangkok venue. Originally located for many years in the defunct Queen's Park Plaza – Moonshine is now located in the popular new Sukhumvit Soi 07 Bar Plaza. From the Soi 07 entrance, Moonshine is the second venue on the right.
Next up "Scruffy Murphy's" located on Sukhumvit Soi 23. The only venue in the league hosting two teams. One of the larger venues and easy to find. They tout having the largest selection of whiskey and their menu is filled with genuine Irish cuisine. Also lot of live entertainment. Check 'm out.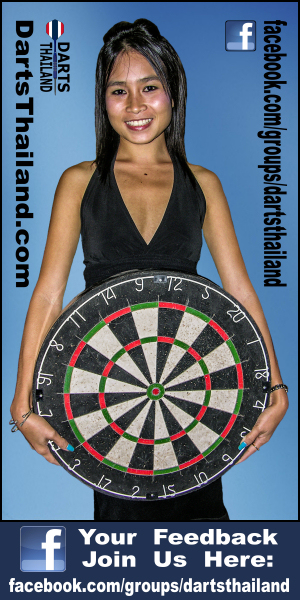 Also on Soi 23 is "The Clubhouse" and easy to find with large frontage. Popular league darts venue. The Clubhouse is a top Bangkok sports bar with 2 big screens & 19 TVs over 2 floors. Full international menu and large selection of draught beers.
Next up "Hot Spot" located on an alley off Sukhumvit Soi 26. Check out the map. Hot Spot is the only venue in the league that has both steel & soft-tip dartboards and participates in both leagues. Hot Spot attracts the more "established" steel-tip clientele and the younger soft-tip crowd for a great meeting of both.
Last but not least – "B52/New Cowboy" my regular for a "few" years now. Long time friend of Bangkok darts – Miss Jah of B52 darts fame is now the publican of B52/New Cowboy keeping the tradition of both continuous and on-going.
Good Darts to all league players and hopefully this article will bring some new customers to your darts bar. Until Next Time Stay Well – Johnny – DartsThailand.com
@@@@@@@@@@@@@@@@@@@@@@@@@@@@@@@
Hidwaway Bar – Sukhumvit Soi 33
facebook.com/hideaway.bar.52
The Blarney Stone – Sukhumvit Soi 4
facebook.com/BlarneyStoneBKK
KEEP IN TOUCH BAR – Sukhumvit Soi 22
facebook.com/KEEP-IN-TOUCH-BAR
Buddy's Bar & Grill – Sukhumvit 89
facebook.com/Buddys-Bar-Grill-sukhumvit-89
Moonshine Pub – Sukhumvit Soi 07
facebook.com/MoonshinePub
Scruffy Murphy's – Sukhumvit Soi 23
facebook.com/ScruffyMurphysBangkok
The Clubhouse – Sukhumvit Soi 23
facebook.com/clubhousebkk
HOT SPOT – Sukhumvit Soi 26
facebook.com/HOTSPOT.BANGKOK.1
B52/New Cowboy – Sukhumvit Soi 22
(no internet reference at this time)