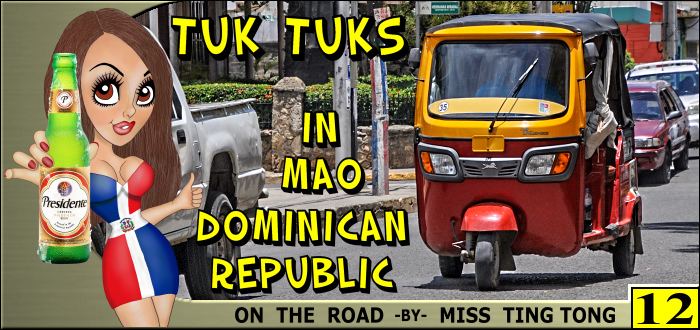 The brothers next DR stop – the city of Mao. Yes – it really does exist. Now I should take a moment to explain why Johnny was so wound up and thrilled about visiting this city. In the Thai language – the word "mao" means "drunk". Johnny reckoned one had to get "mao in Mao' just as one must get a haircut when in Seville just to be able to say you've been to the real "Barber of Seville". Now as Gary drove into town the brothers quickly discovered something else u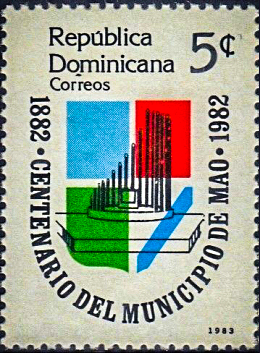 niquely distinctive about Mao. They got Tuk Tuks ! Yup – Mao and the surrounding area is the only place in the country of the Dominican Republic where you can find a tuk tuk.
Now the tuk tuks in Mao are not like the well-known classic tuk tuks of Thailand. From what Gary was able to learn talking to one of the drivers – it seems they are imported from China. They are called Mototaxi Margarita or more commonly simply Margarita. Surrounded by sprawling rice fields and banana plantations with a similar Thai climate PLUS having tuk tuks AND named Mao – – How can this great Dominican city not have a "Sister City" in Thailand? This is an important issue that needs to be addressed. Question is which Thai city would be an appropriate "Sister City" for DR's city of Mao?
Some additional info on Mao – The Dominican city of Santa Cruz de Mao, or simply Mao, is the head municipality of the Valverde province, in the northwest of the country and is the largest city of the Dominican northwest and the centre of the region. Mao holds the record for the highest temperature ever recorded in the D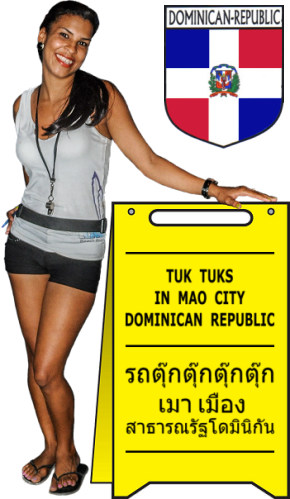 ominican Republic with 43.0 °C (109.4 °F) in 1954-08-31. The main economic activity of the province is agriculture; the main products in the municipality are rice, bananas and plantain. It lies near the Yaque del Norte River in the fertile Cibao Valley.
In the accompanying photo gallery is a variety of tuk tuk pics from around town with Gary posing in one shot. And a pic of "The Gary Car Wash" from a nearby town. Also featured are pics of the downtown Mao park. The yellow bus shot is a CT Caribe Tour coach that efficiently operate throughout the country. The impressive green fortress looking building is the Mao Monkey House where the brothers where happy not to spend any time. They did enjoy the accommodations at Agua Azul Hotel and wow what an impressive pool they have. Until my next report – keep your darts flying straight and your beer flowing. – – Miss Ting Tong