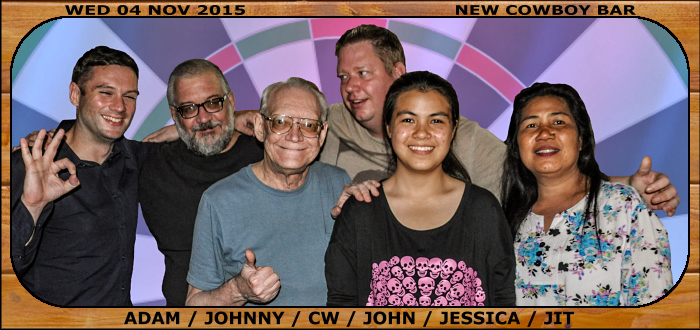 Another great night of darts at NCB – an unplanned Wednesday gathering of enthusiastic darts players. Adam put the call out that he'd be down with a new player. Visiting the NCB oche for the first time – Big John – a skilled darts player based out of Pattaya. Also joining the group were local regulars CW and Johnny and we were lucky to soon after have mum and daughter – Jit & Jessica – call in minus husband – Simon – who was hung up at the office with an ongoing project. Some here say that mum & daughter are the more skilled players in this family but I'm not naming those making this claim Simon.
501 Doubles was the game and the teams were set – (Team A) Adam & Jit — (Team B) John & Jessica — (Team C) CW & Johnny. I'd have to say that all the players considered that this team breakdown would make for a night of close darts competition. But this belief was quickly dismissed as the darts began to fly. Easy to see from the scoreboard pic in the below gallery that John & Jessica were the dominating powerhouse team on the night right from the get go. CW & Johnny had to rely on their time proven darts tactic of calling on their darts coach of many decades and true to form – Mr. Jack Daniels provided them enough encouragement to claim a few games. But Adam and Jit were still unable to claim a single victory.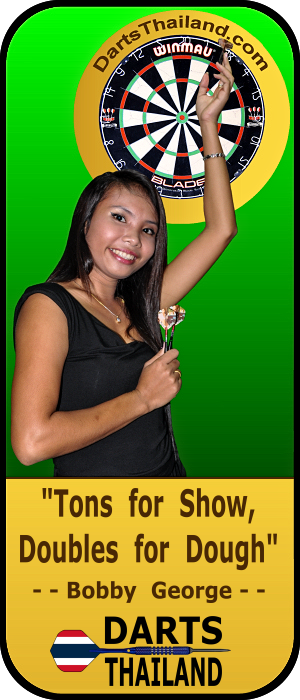 There were some really impressive numbers thrown on the night – most impressive was Big John's 180. Also saw quite a few 140s – multiple tons and tons. But ironically the famous words of darts great Bobby George – "Tons for Show, Doubles for Dough." came to mind as the night also saw too many games that failed an equally quick finish on the doubles with some games coming down to a long contested throw for the "madhouse" double one. Notable exceptions were a 61 close by CW. And after a comment by John to get a photo of the scoreboard with Adam & Jit still unable to claim one victory to show to Adam's "Black Monsters" darts team – that changed. This seemed to motivate Adam and he stepped to the oche with a real sense of purpose with 118 remaining – S18 – T20 – D20 – to earn him the high-close on the night.
As always Miss Tia and her fine crew of great gals were there to support us on the night – taking care of scoring and helping to create a great darts atmosphere. We the members of the New Cowboy Bar Darts Club certainly do appreciate the interest and support we receive by all including – "you" reading this and those who come out to cheer the players on at NCB. Our aim is to have this continue and grow promoting the great game of darts in a friendly neighborhood pub and affording all those visiting a feeling of being "at home" in your local Bangkok darts pub. And we especially look forward to meeting more visiting darts players to give you a great darts memory from Thailand and online photos to take back home to and show off where you regularly play darts.
NEW COWBOY BAR DARTS CLUB – – Events Update.
We currently have two events in the works. Stay tuned because tomorrow will be the long-awaited announcement of our December Gala Darts Event being held at the NCB. But I will also take this opportunity to update you on our already announced event – Friendly Challenge Match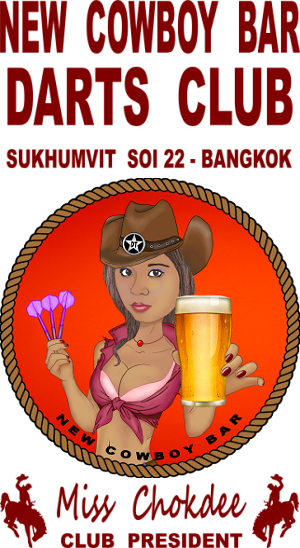 between "Don't Tell Mama Bar" in Jomtien – 1st match away – 2nd match home at NCB. The return match date at NCB is still not set but here what's happening on the first leg at "Don't Tell Mama Bar." on 21 Nov. – All is going GREAT ! – As expected the logistics of moving a complicated entity such as a beer drinking darts team is complicated but we're hammering out the details – slowly but surely. We'd especially like to thank our good friend Steen – heading up the Don't Tell Mama team for providing us all the information we need – including such pertinent factors such as our players favorite brand of beer so they can best accommodate us. This is the kind of darts "attention to detail" that is much appreciated. – Until next time – Look forward to seeing you at the darts oche !
Miss Chokdee
PRESIDENT
NEW COWBOY BAR
DARTS CLUB