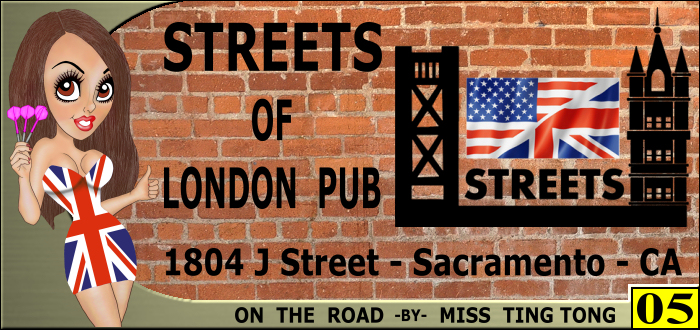 Streets or formally known as Streets of London in Sacramento is a favorite watering hole that David has been taking brother Johnny to while visiting for some years now. No mystery there considering Streets has two steel-tip dartboards with a great throw area, an excellent selection of draught beers, a good menu and a convenient outdoor area that you can take your beer out to and smoke as well. Now that last bit may sound a little confusing to anyone in the normal civilized world but remember we're talking about looney California here. Unfortunately like too many places today – smoking

is not allowed in the bar so you must step outside. But in CA some outdoor areas do not allow smoking but do allow drinking – others you can't take your beer out while you step out for a smoke. If that makes any sense to anyone – you may qualify to reside in CA.
Streets has a lot of activities and specials which makes them a popular place. And most important – from our aspect – is that Streets hosts two darts teams in the SVDA (Sacramento Valley Darting Association) leagues. It's always a pleasure to see any darts association or organization running a successful operation promoting the popularity and growth of darts. Naturally every darts group or league will have some disconcerted members but lasting the test of time is one way we gage a successful darts organization. The SVDA was established in 1973 and we here at DT commend you and can easily state that your darting association and its leagues is the envy of many of Bangkok darters.
Always a great time at Streets Bar in Sacramento and check out more about the SVDA from a link on one of our pics NOTE – Bangkok Update – our good friend Kenny (KTD / Kenny-The-Dart) has sussed out how to sign-up on DT's newly and continually being updated website – so – we'll be looking forward to soon seeing some of his fine darts reports. Until my next report from sunny funny California – – your dependable DT reporter – Miss Ting Tong