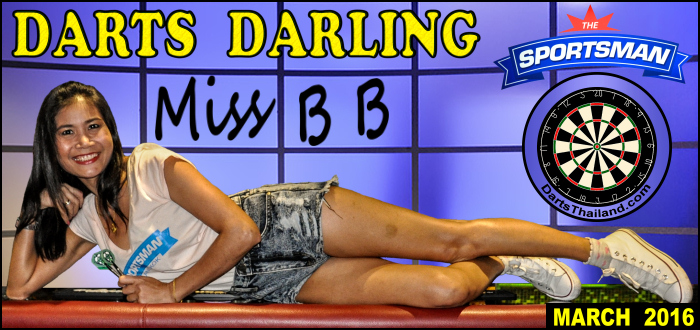 Beautiful Miss BB is our featured March 2016 "Darts Darling". She reins from the well-known Isan town of Surin probably best known for their annual elephant round-up. Miss BB's relaxed, laid-back manner likely has a lot to do with being raised as a country style gal in the Northeast countryside of Surin. Not spoiled by the international cuisine available in Bangkok – the popular but simple Thai dish of Tom Yam Kai (Spicy Chicken Soup) still remains her favorite.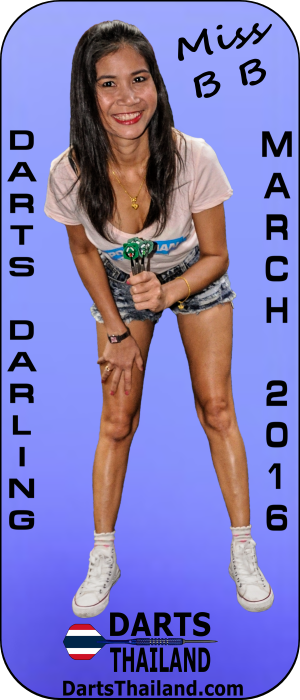 With increased Darts events on TV and especially the easy access with today's social media – seeing the great men and women darts players Thailand is producing – it comes as no surprise that Miss BB is among the growing number of darts enthusiasts here. BB's favorite darts player is the ever affable "Yong" Thanawat Gaweenuntavongwith with growing numbers of victories not only country-wide but world-wide as well. Yong is a regular at The Sportsman which also happens to be Miss BB's favorite darts venue. Miss BB is seen here in our photo gallery using 22 gm. Magic Darts marketed by A-Z Darts (www.a-zdarts.com).
Miss BB's turn-on – well mannered darts players who follow proper player etiquette. Turn-off – the opposite type darts player and especially those who are sore losers. My guess is that Miss BB surprises a lot of darts players who fancy themselves as 'good players' with her display of extreme proficiency at the game. If you have the opportunity to meet Miss BB at the darts oche in The Sportsman – please tell her that you read about her here.
Here's a brief overview of The Sportsman Bar & Restaurant. We'll have a more in-depth article in the future as it will be one of our featured darts bars. As well – one can never visit a watering hole the offers both Guinness and Kilkenny draught too many times ! The Sportsman is located on Sukhumvit Soi 13 in Bangkok. It's a two floor operation and we'll refer to these as lower and upper floors (no numbers) so as not to confuse our UK English and American English readers. Their upper floor is available for private parties and occasions. Both floors have well stocked bars with an excellent food menu, dinning tables, large screen TVs with sports, pool tables and of course dartboards.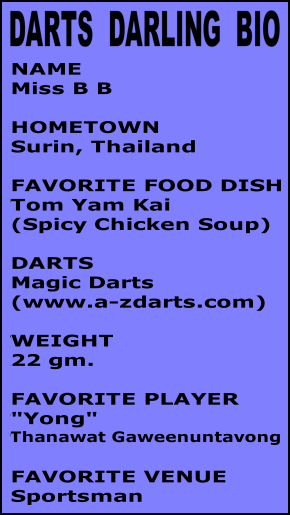 The Sportsman uses Unicorn dartboards. On the lower floor there are two boards one regular and one practice board with the narrower double and triple spaces. The upper floor has three match boards with a raised oche and an excellent throw area for both playing and viewing. Sportsman is one of the more active Bangkok darts bars holding a weekly event – Thursday Night Darts Comp. Please refer to the advert in the following photo gallery for all the details.
One of the more FAQ inquires we receive here at DT is where can I buy darts and darts supplies here in Bangkok? Answer – The Sportsman is one a very few and we'll compile a list of them as we update our dart bar listing. As of this writing the Sportsman has the largest selection and prices that I thought to be most reasonable. To learn more about The Sportsman check out their website at the following link where you can also fink a link to their FaceBook page. (www.sportsbarbangkok.com)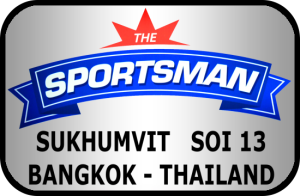 WEBSITE NOTE – Obviously the most timely posting of "Darts Darling" is our major priority. For those asking why there was no February Darts Darling posted – we thought that would be obvious as this is a leap year. Within a few days a photo gallery from the "Don Tell Mama" visit at "New Cowboy Bar " will be uploaded. And shortly following will be additional overdue photo gallery uploads. Now don't confuse this surge of work with that of an efficiently run website. Just playing catch up and living up to our motto "Better late than never." I do believe I hear a pint of draught beer calling me. Until next time or we hopefully meet at a darts oche – take care! – Johnny Witkowski – DartsThailand.com