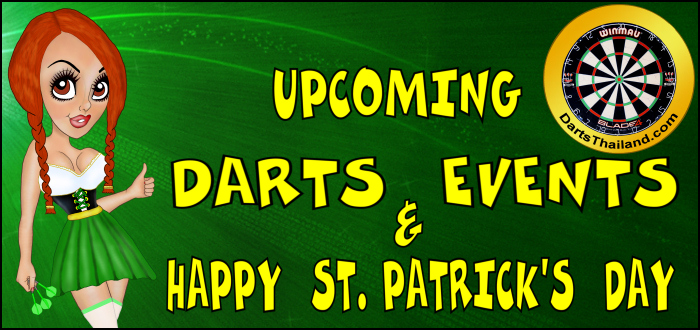 Greetings to my fellow darts enthusiasts from around the world. A good part of what we do here at DT is to promote all darts events known to us for you our readers. If your event is not listed here – contact us and let us know and we'll be more than happy to add your event. This is not limited to only Bangkok – where our corporate offices are located in The New Cowboy Bar Building Complex – but Thailand wide. If you have a darts event coming up or have a regular darts event we want to let as many players as possible know about it.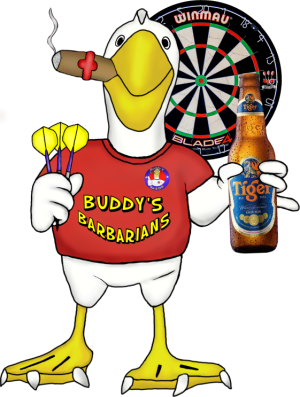 The regular Friday Night Darts at The New Cowboy Bar this Friday 11 March will be preempted by the "Soi 22 Darts Showdown" – the first match of a 2-match series with the NCB Darts Team playing away at Buddy's Bar & Grill against the mighty Buddy's Barbarian Darts Team. Match 2 will be at NCB – Friday 25 March. This winner take all series will afford the winners the ultimate darts bragging rights of Sukhumvit Soi 22. If you'd care to join in the fun on either night please stop by.
MAJOR THAILAND DARTS OPEN – The "Korat Darts Open 2016" will be held 26 – 27 March 2016 in the Chomsurang Hotel in Korat. This is defiantly one of Thailand's major Darts Opens where you can expect to see Thailand's top darts players as well as those visiting The Kingdom. If you're visiting and in need of a partner for the doubles event or looking to be part of the team event contact us here at DT and we'll do our best to get you hooked up. Also if you're looking to share transport costs from Bangkok to Korat – give us a shout.


Bangkok has not only one or two – or three – but four regular weekly darts events. Wednesdays Nights (9:30) at Domino Pub on Sukhumvit Soi 11 – Thursday Nights (7:30) at The Sportsman on Sukhumvit Soi 13 – Fridays (7:30) at The New Cowboy Bar on Sukhumvit Soi 22 – and again on Saturday Nights (9:30) at Domino Pub on Sukhumvit Soi 11. If you're a visiting darts player it's an excellent opportunity for you to meet and get to know the darts regulars of Bangkok whilst playing darts in three of its most famous darts venues. Most famous? You've never heard of any of them? Well have you ever heard of a darts player by the name of Phil Taylor? Yes, Phil 'The Power" Taylor has played in all three of them !
Last but certainly not least – we here at DT would like to take this opportunity to wish all of our readers a Happy St. Patrick's Day and hope your darts fly especially true next Thursday the 17th of March. Additional information for all the events I've mentioned in this report can be found on the adverts in the following photo gallery – just click on any thumbnail to view full size. Until next time or we have the opportunity to personally meet at a darts oche – I wish you "good darts" ! – Miss Ting Tong – DartsThailand.com Special Correspondent –