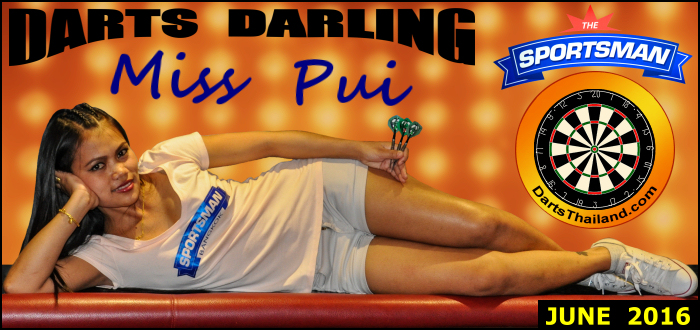 Always pleasant, prepossessing and positively pretty is Miss Pui – "Darts Darling" for June on DT. Miss Pui reins from one of the four major cities of Isan, Thailand, also known as the "big four of Isan" – Khon Kaen. It is the capital of Khon Kaen Province and the Khon Kaen District – 450 km north-northeast of Bangkok. Khon Kaen University was the first university established in northeastern Thailand and remains the oldest and largest university in the region. With all this – you may assume that it also has an active darts scene, as does its neighboring city of Korat. But sadly this is not the case but we're definitely hopeful for the future and will be most happy to publish any darts happening when it develops or we're made aware of one.
The fact that Miss Pui's hometown isn't darts country is in no way a reflection on her ability as a more than proficient darts player. Seeing Miss Pui's photo you of course first see a real cutie but then may think she may be a bit short to be a real serious darts competitor. A common misconception of many darts players visiting Thailand is that some of the "slight of stature" gals playing darts are at a disadvantage. True enough, many gals may have trouble reaching their dart to pull it out of the double twenty – BUT – absolutely no trouble at all "hitting" a double twenty. Many a visiting tall lad are shocked at just how quickly their "somewhat" shorter Thai gal opponent hands them a devastating defeat on the dartboard.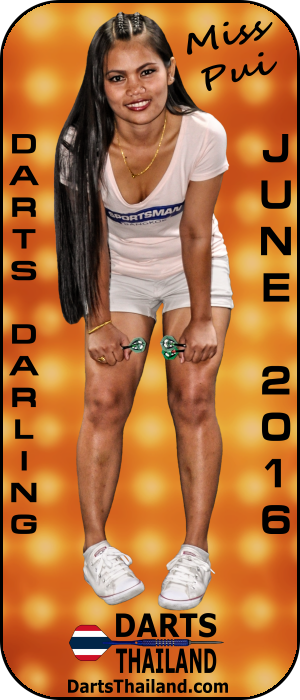 Miss Pui's favorite game is "301" – double in/out. She uses Unicorn darts 22 grams. Pui keeps her eye on the game and knows who's who in the pecking order of Thai darts players. Her favorite darts player is Bally captain of The Black Monsters Darts Team and The Sportsman just so happens to be their host bar. Their growing success throughout Thailand Open Events in all categories – team – doubles and singles has been gaining them increasing notice most especially with Bally – leading by example. Miss Pui says – keep you eye on Bally – you'll be seeing him more and more on the international darts scene in the future!
Miss Pui's favorite darts venue is The Sportsman which comes as no surprise as it's one of Bangkok's most popular darts venues. The Sportsman touts not one or two but five dartboards all with excellent unobstructed throw areas. Two boards are on the ground floor and three more are on the upper floor in the larger main darts area. Being a sports bar there are more large TVs than I can count – with satellite leads from all the games/matches world-wide. The Sportsman also caters to those who favour the "less popular" bar game of pool with more Brunswick tables than you can count. An upper floor area for live music and comedy nights as well as well-stocked bars on both floors can only be topped off with a great food menu – and that they got. Still need convincing? Click the following link to visit their website – CLICK HERE
Lastly we come to Miss Pui's favorite Thai food dish – Som Tum – the famous northeastern Thai Green Papaya Salad. Now if you don't know about Som Tum – you're truly missing out on one of the world's finest culinary delights! So why is Thai Cuisine – although exceptional – being discussed here on a "darts" website? Good reason – truth is Thai cuisine & international cuisine is an integral component of darts here in Thailand. What? – Yes, the fieriest competition especially at the fun darts and league level is not at the darts oche from the players but between the host bars and the outdoing of each other with food/snacks – "pub grub" – (understatement) that they provide for – us – the darts players.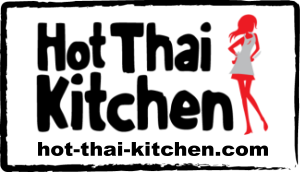 A common topic with our many valued visiting darts players is how much you miss Thai cuisine "back home". Now for how truly amazing our fine crackpot staff is here at DT – ain't much we can do to help you get authentic Thai food back home. Ah – that is until yesterday and my discovery of a great website that is most capable in the arena. Introducing Miss Pailin and her most excellent website Hot Thai Kitchen. As she says – "I'm here to demystify Thai cooking for you with easy-to-follow video recipes." Her site and vids are well done and even I felt I could easily prepare any Thai dish after watching her presentations. This is not a paid advertisement – just sharing a great resource with a topic that so often comes up even with darts players. And even if you're not the "chef" of any kitchen – I'm sure you know someone who can put this info to good use – possibly getting you a dinner invite. Click the following link to visit her website – CLICK HERE
Hope your darts always fly straight & true !
Johnny Witkowski
Darts Thailand