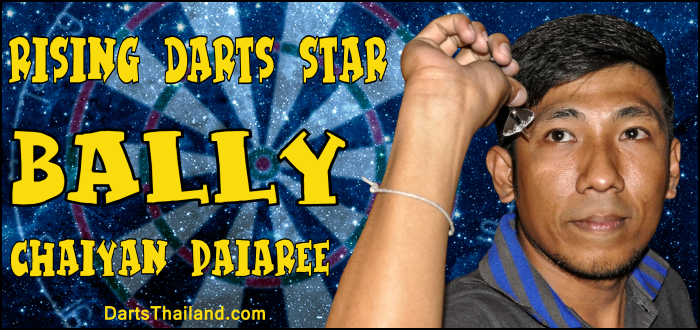 Chaiyan Paiaree better known in darts circles as Bally is a name that you are seeing and will continue to see more and more in the future in darts news especially at the international level of play. It was my pleasure to get a chance to sit down over a few draught pints with Bally at New Cowboy Bar a few days ago for this interview. One of the first impressions you get of Bally is that of a well-mannered, soft spoken, laid back individual. John Lowe – known as the Gentleman of Darts came to my mind thinking Bally could most definitely be considered Thailand's Gentleman of Darts.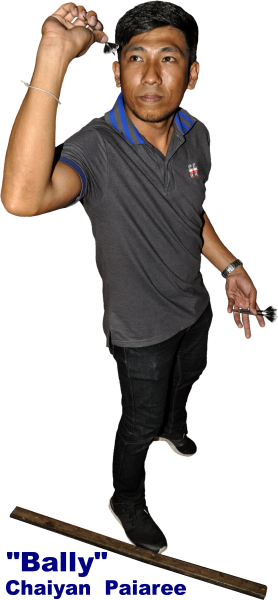 PLAYER PROFILE
NAME – Chaiyan Paiaree
NICKNAME – Bally
AGE – 34
HEIGHT – 178 cm
DARTS – Unicorn 24 Gram
PLAYING FOR – 15 Years
FAVORITE PRO – Eric Bristow
Bally is for sure from a darts family – as a matter of fact he was introduced to darts 15 years ago by is Mother and Father and brother. That still holds true today as Bally regularly plays darts with his family. In the most recent EGAT Open – Bally teamed with his Mum in the doubles competition. A real team player – you bet.
Black Monster Darts Team is the team Bally is not only a member but also proud to be its captain. This is a happening darts team with growing accomplishments in country-wide open tournaments – in all categories – team – doubles and singles. Be sure and check out this darts team on their FaceBook page to stay up with all their news, wins and some great photos. And like any FB page – I'm sure that they'd appreciate that you click their "like" button. Click on the following link to visit the Black Monster Darts Team FB page – CLICK HERE
I asked Bally what he'd like to say to DT readers – "Hello, I hope to meet you at the darts oche." You're most likely to meet up with Bally – in Bangkok – at the weekly darts events held at Domino Pub and The Sportsman. He also likes to occasionally pop in to visit old friends at the Patpong Cafe and The New Cowboy Bar. DT prediction – You'll be reading a lot more about Bally and the Black Monster Darts Team in future darts news !
Johnny Witkowski
Darts Thailand