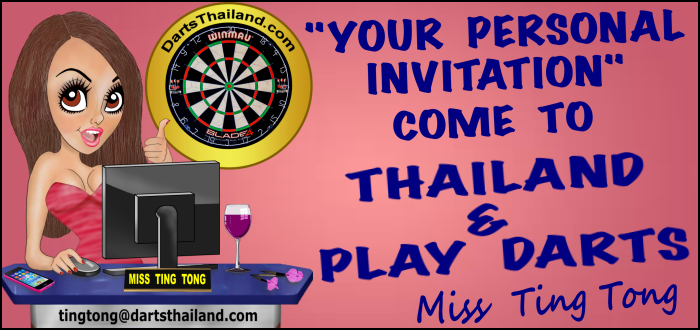 Sa wat dee kha (Hello) darts players worldwide. If you're not already a visiting darts player here – consider this your personal invitation to visit Thailand and play darts. Being one of the major travel destinations in the world – a good percentage of our visitors – be it a holiday vacation or business travel – are darts players! But sadly not all darts players traveling here realize that an active darts scene is among Thailand's many attractions. We're not saying our darts venues, events or leagues are better than yours "back home" just that we probably get a lot more visitors – very welcome visitors. Remember – all of the major travel destinations in Thailand have active darts scenes that welcome visiting darts players. Putting out the word is one of our main objectives here at DT.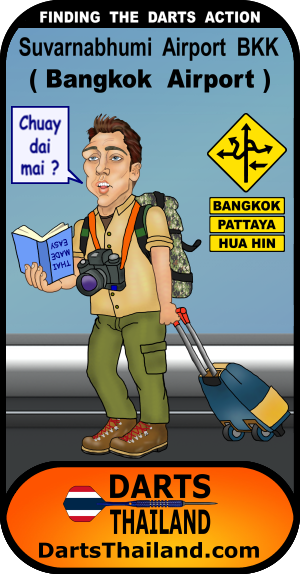 Our local players are always happy to meet visiting darts players at our local darts venues for a few games and to compare notes on each other's local action. Dart players seem to be natural world-wide fraternity. But far too often visiting players comment that they'd wished they'd known about the darts scene here beforehand as they are now on the last few days of their visit. If you're now planning a Thai visit – be sure and pack your darts and if you can't find information on where to play – contact us here at DT and we'll be happy to point you in the right direction.
Also keep in mind that if you're traveling with a group of darts players – all the better. We will set up an event or events to accommodate your group – anything from social fun player level to higher skill levels. Give our local players an event and they'll be most happy to gather at their local darts pub to meet at the darts oche, knock back a few cold ones and socialize with fellow darters. DT is located in Bangkok but we can introduce to local enthusiasts from any darts destination in Thailand for your visit or your group's visit.
Keep in mind that we at DT have no hidden agenda – meaning we are not a commercial site. We do not sell advertising. We do not belong to nor have any affiliation to any darts association, organization or league. We are an independent darts news and information site. The opinions and accolades to any particular darts venues are those of our contributors – actual darts players. We do not have any rating system for our dart bars list – which is way out of date and will "soon" be updated when our lazy DT photographer finally accomplishes that task. The criteria for the venues we give the DT "Darts Excellence Award" is based off the popularity of the darts players that frequently play darts in these venues – because they are the best darts bars. NOTE – this new award will be given to addition darts venues as they are recognized. Bottom line – if you read something good about a darts venue here on DT – it's because it really is popular with the local darts players.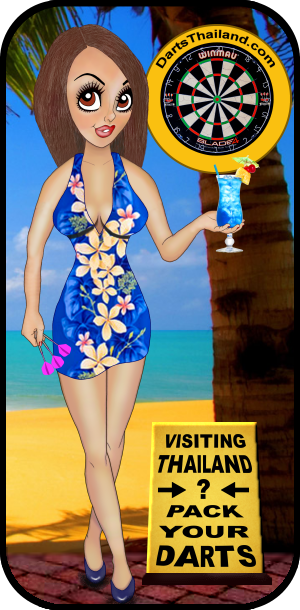 A FAQ we receive here at DT is why we do not provide a calendar with the major Thai Open events throughout the year. We tried that on DT in the past but it's not the norm here to give a lot of prior notice to such events. But we are still hopeful that in the future that "may" change and we can provide such a calendar allowing enough notice for you – players from around the world to plan it in your visit. In the meantime – we do our best to announce major events as soon as we learn of them – either here on the website or if real last minute on our FB group discussion page – click the following link if you are not already familiar with it. CLICK HERE
It's a fair judgment to say that some of the volume of darts action here is seasonal. This is not only based off the tourist high /low seasons but also the far less predictable travel schedules of many darts players living here with jobs that require them to travel. So the advantage that we have as a popular travel destination is also disadvantage – but to a far lesser measure. Right now is our rainy season – traditionally low season – in addition to many living in the northern hemisphere colder climates taking advantage of enjoying their own summer seasons.
But darts remains alive & well in Thailand year round. Here's a bit of an update. First off – the "Chonburi Darts Open 2016" is this weekend – 9 – 10 July. We'd like to wish all those playing "good darts." This event is now one of the regular major annual events in Thailand. Note – some regular weekly events in dart bars may be canceled do to a major darts event – best to check with them on such dates. Here's an update of the regular weekly darts events that we're aware of – please contact me if you have one to add.

BANGKOK – Fridays – The Sportsman on Sukhumvit Soi 13 – a top notch darts venue that touts five dartboards. Saturdays – Domino Pub on Sukhumvit Soi 11 – a long time popular centre of darts that continues this legacy. You're likely to meet some of the top Thai players here. No regular day – New Cowboy Bar – Sukhumvit Soi 22 – another long established darts bar that continues regular daily darts action. Hopeful to have a regular weekly event back by next update but still a happening darts venue – last night as well as tomorrow night – impromptu darts with many of the regulars. Check our FB discussion group (linked above) for last-minute updates.
PHUKET – Fridays – Starfish Bar in Ban Patong – no doubt the "must visit" darts venue in Phuket. Dartboards along with pool tables, sports on large screens and a great food menu with mouth-watering photos of their offerings can only partially describe the Starfish Bar. So why not tell us more? Stay tuned boys and girls – an upcoming feature article on DT will highlight this great establishment. For more info on all the regular weekly darts events – check out the adverts at the beginning of the following photo gallery & please visit their web pages and / or FB pages.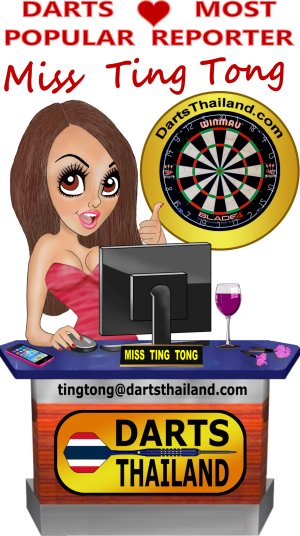 Last but certainly not least – we have a random pic photo gallery of recent visiting darts players. Our apologies to those we've missed. But keep in mind that I'm dealing with a beer-drinking, jazz trumpet player – photographer – who believes he has an efficient photo file system just because MS puts each new entry into a new "file". I'm hopeful we'll have photos from more locations in the future but it is difficult to get the before mentioned individual far from the Tiger draught beer pump in New Cowboy Bar. As always – we sure do hope this latest update has given you more insight to the Thai darts scene and why you need to pack your darts if headed this way. Don't hesitate to contact me if I can answer any of your questions about darts in Thailand.
Wishing You Good Darts !
Miss Ting Tong
tingtong@dartsthailand.com
Darts Thailand