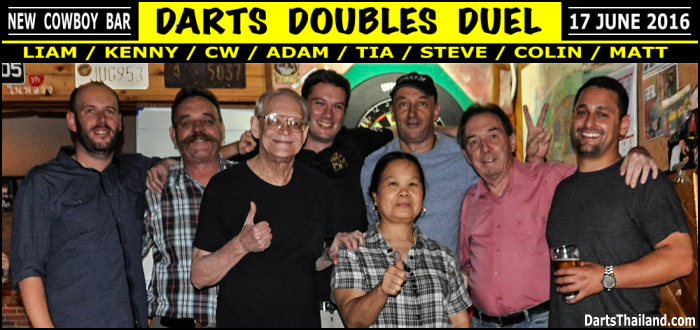 Welcoming visiting darts players to Thailand is always an extra plus for the regular players on any night of darts. The camaraderie of the regulars in much enhanced with tales about the darts scene from distant parts from around the globe. A visiting darts player may be a very irregular occurrence in many parts of the darts world – especially those with long established leagues in rural areas. But here in Thailand traveling darters – be it business or holiday are a regular part of our darts scene and a much valued one at that.
On this session of doubles @ NCB with many regulars able to attend – we had not only one but two visitors. Welcome back Liam – a regular visitor who is Adam's cousin. We always enjoy seeing Liam again and look forward to your next visit and meeting at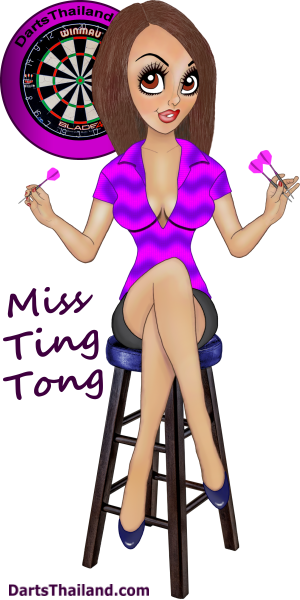 the darts oche. And visiting Thailand for his first time we welcome Matt – a co-worker with Colin. Matt seemed to really enjoy his first encounter here in "The Land of Smiles" even though it was a business trip and said that he was eager to return. It was a real please to meet you Matt and although we all know Colin is a totally competent employee – we wish you luck in convincing your head office that your expertise is also needed here from time to time.
Although this darts secession was played on 17 June 2016 it is only now being published. Why? Once yet again the incompetence of my co-contributors here at DT. Once given the task I promptly have it published. If my compatriots here at DT were even half as good at getting reports published in a timely manner as they are skilled and dedicated at drinking beer – wow – we'd be a bonafide darts news organization!
Miss Ting Tong
"DT's Competent Reporter"
DartsThailand.com
tingtong@dartsthailand.com