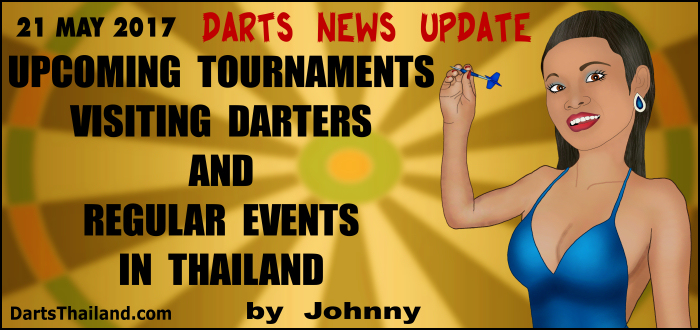 Greetings darts enthusiasts worldwide! Here's a few updates for you who may yet have heard about these events. DT would love to be able to publish an events calendar early enough for those outside Thailand enough time to plan ahead – so sorry for this short notice. But we keep trying. Also in this report an update of regular weekly events open to all. Apologies to any we have not listed. Contact us and we'll be more than happy to include your event – special or regular.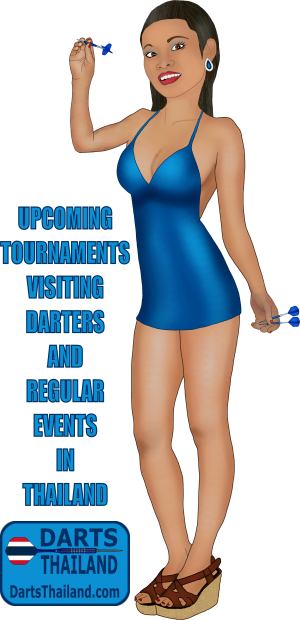 Robin Hood Tavern in Pattaya is holding a "darts competition" on 27 May – for more info see their advert in our accompanying gallery. Robin Hood is the relatively new kid on the darts block but have already made their presence known in a big way. DT's crack (crackpot?) news team is looking at a Robin Hood visit with a feature report soon – very soon.
Kull Sports Bar & Restaurant – "Open Darts Tournament" Sunday 28 May 2017 – for more info see their advert in our accompanying gallery. This is another popular darts venue in the Pattaya area that keeps coming up on the darts events radar and also one we hope to soon feature here on DT.
The Wan Kaew Project Charity Darts Open 2017 will be held at the EGAT complex Bangkok on 03 – 04 June 2017. This event more commonly called the EGAT (Electricity Generating Authority of Thailand) Open is one of the long-running major darts opens held in Thailand attracting not only top Thai darts players but players world-wide as well. If you're visiting and unfamiliar with EGAT's location contact us here at DT for directions and / or splitting taxi fare to the event from downtown Bangkok. EGAT's advert is in our accompanying photo gallery.
Popular Thailand destination Chiangmai will be holding the Chiangmai Darts Open on 08 -09 July 2017. Their event's advert is in our accompanying photo gallery. We will publish more info – in English when possible as we receive it on all of these events. Please join us on DT's FaceBook's discussion page to address any more questions you may have. – (www.facebook.com/groups/dartsthailand)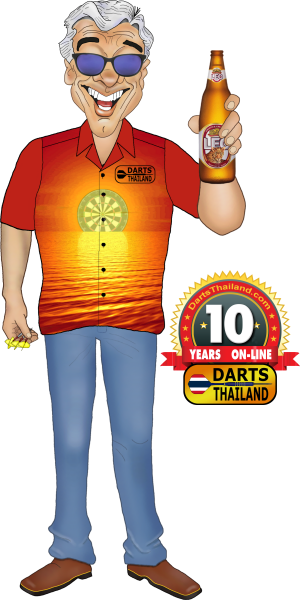 Visiting Darter – Paul (Dartoid) Seigel will be back in Bangkok 18 – 22 July 2017. Yup, our good friend is back again ready to face whatever darts challenge we can put before him. This time – Bangkok's most popular darts gal – the lovely Miss Jeaby is calling up all her darts "troops" to yet again demonstrate to "Dartoid" that the the Bangkok darts gals will again "kick his arse" years after his first attempt. Stay tuned and we'll be announcing exact dates and venues as Paul's visit get closer. Be sure and check out Paul's website – http://dartoidsworld.net/
REGULAR WEEKLY DARTS EVENTS – These are open to all and especially popular with the many darts players visiting Thailand throughout the year. Each one has an advert is in our accompanying photo gallery.
– Fridays – "Darts at the Fish" at Starfish Bar in Phuket. This excellent darts venue seems to just get better and better especially with their Friday nights darts. A definite "must see" for all darts players visiting Phuket.
-Fridays – "Lucky Draw" at The Sportsman. Bangkok's largest darts venue attracts a good crowd of regulars and is open to all visiting darts players. Another "must see" for all darts players visiting Bangkok.
-Saturdays – "Darts Lucky Draw @ 101/1" – Sadly the long-time popular darts venue Domino is now just a memory. But Domino publicans Dew & Peter saved enough of the bar and darts and have it set up in a new condo and their Saturday night darts tradition continues
– Sundays- "Why Darts" at New Cowboy Darts Club & Restaurant hosts a popular informal doubles comp. No where else in the darts world does the prestigious MVP (Most Valuable Player) Darts Hat exist. MVP is voted by all the players on a night – a must visit and give it your best at attaining this esteemed darts award.
Remember that if you have any darts event – please let us know and we'll be happy to publicize it on DT. For any last minute events – you can post on our FB Discussion Group. As well if you have any further questions about events in this article – https://www.facebook.com/groups/dartsthailand/
I must run now – I hear a pint of draught beer calling me . . .
Good Darts !
Johnny Witkowski
DartsThailand.com