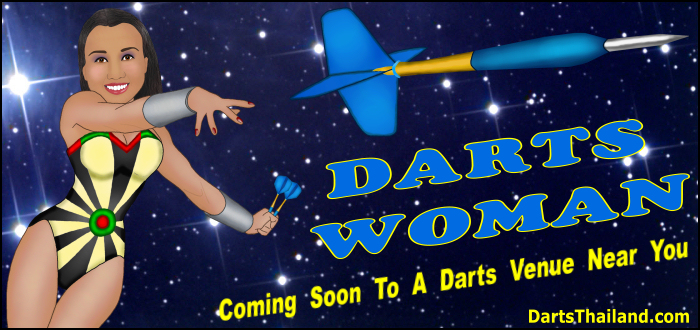 My name is Darts Woman – so nice to meet you !
I am dedicated to the world-wide advancing of the popularity of darts as an enjoyable social activity and promoting fair-play and good sportsmanship. Reinforcing basics like a proper stance and the most important "follow through" of your throw. I'm also comitted to teaching newbies their "out numbers" thus increasing their confidence and overall joy of the game. I am also devoted to fighting and exposing any corruption in darts leagues and organizations – although rare but where it does exist. I count on all of you dedicated darts players and enthusiasts from around the world to assist me in this noble quest.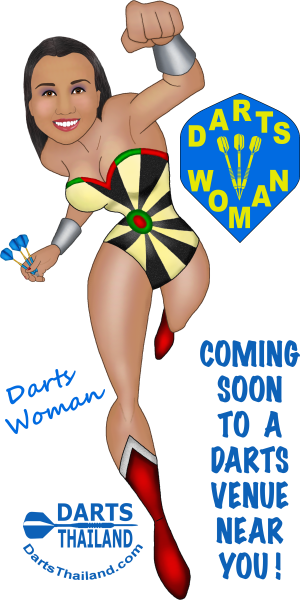 I am always a fan of the underdog. When I pop into your darts venue – my extraordinary darts abilities are available to join the least skilled team or player needing a doubles partner. Taking on a more skilled player is the best way to actually improve your own game – although so many so-called players only want an opponent they can always defeat. Take it from me – if you always win at the oche your game will never improve – actually the opposite will occur and you will start playing down to your opponent's level. Victory over an easy opponent does nothing for one's self-esteem. But – your victory as the highly rated underdog – now that's a super boost to anyone's self-esteem.
"This looks like a job for Darts Woman" – but I can really use your help. We here on DT want to acknowledge the "real life" darts woman "super hero" from your regular darts venue, bar, or pub. Who is the outstanding gal at your darts regular who displays skillful darts playing and or organizing darts events or attracting new players to darts? Who is she who provides the motivation and leadership that moves your darts players to their best performance? So again – who is the real life, super hero, darts woman at your regular darts place? Please join us with your response on our DT FaceBook group – Click Here.
Good Darts !
Darts Woman