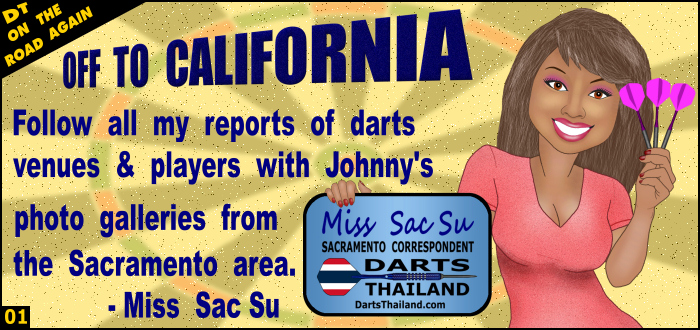 Once again Darts Thailand is "On The Road Again" traveling to the Sacramento area of California. I'm Miss Sac Su your DT Sacramento Correspondent and I'll be reporting on everything darts in the area. Johnny is making a long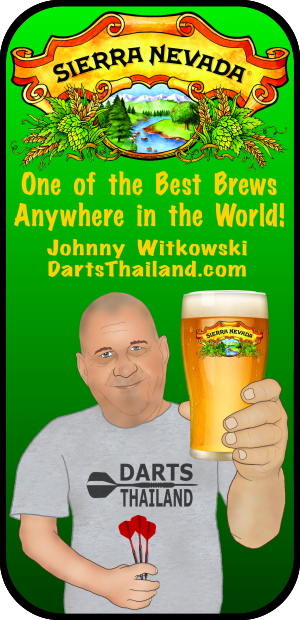 over due visit to see his Mom and family members. In between family events we'll be getting around the area checking out the darts scene and its players.
According to Johnny – an unquestionable perk of visiting SAC area's darts bars is not only good – but excellent beers. Almost taken for granted is the regular local on tap – Sierra Nevada – Johnny says – we should be so lucky in Bangkok to have such a great draught pint available. For sure we'll be hitting his favorite local darts bars Phat Chad's and The 10th Inning – both located in Citrus Heights. Phat Chad's is a long-time established popular darts bar. The 10th Inning is a bit of "heaven on earth" for real beer lovers with their regular rotation of 14 of the best craft brews. I'll be highlighting in special reports these two bars and others we discover as well as interviews with local darts players. And no area visit would be complete without stopping in to see our good friend Scotty Burnett and his excellent crew at the AtoZdarts.com shop and showroom.
DT SURVEY QUESTION – Do you have a favorite darts beach bar on or near the water?
See pic in the photo gallery below. Easy enough question for DT darts players living in Thailand with year round warm weather. But what about you readers living north with cold winters. Do you have a summertime favorite darts beach bar or any open-air darts venue? I've seen some beautiful pics from a darts club in Poland with an outdoor grove on a lake with a great darts throw area. But also saw their winter time pics – from their inside warm building – far from the lake with a darts throw area near a huge fireplace.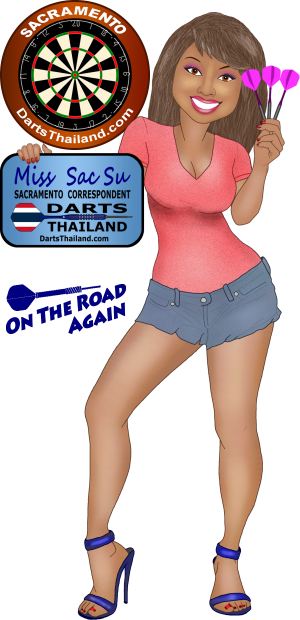 NOTE – New Cowboy Dart Club (NCDC)
Organizational management of the NCDC is being assumed by our good friend Colin while Johnny is "On The Road". See pic in the photo gallery below. Most club members feel that this would be excellent permanent change in management as Johnny has continuously proven to be totally unorganized. Although he has a so called "smart phone" – he only sometime remembers to carry it with him – rarely hears it ring when he does remember to carry it – AND – still has failed to learn how to use or read the text function. Say no more. However he is enthusiastic on taking darts photos and most think we should use what seems to be his only strong point.
Cheers & Good Darts
from Sunny & Funny
California
Miss Sac Su
DartsThailand.com
Sacramento Correspondent