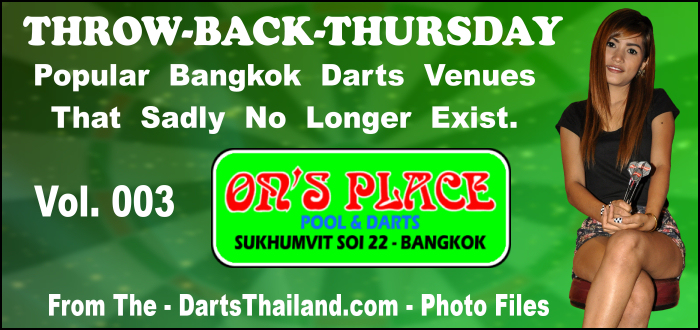 Sawasdee-kop (hello) Welcome or Welcome back. For the record – anyone actually following us here at DT – this published update article almost set a new record for us! Yes, in our twelve or something plus years online, this update almost hit a two out of three attempt at publishing a weekly article (or anything) on time. Close but no cigar! Amazing – Amazing Thailand – Amazing Darts Thailand !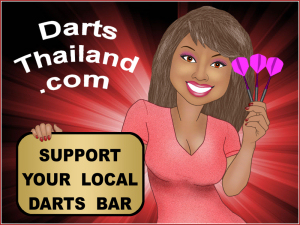 This week we bring you another great darts venue sadly no longer in existence – "On's Place." Was located down from the fire brigade on Soi 22 just past the 7/11 intersection. I say down because it's south in Soi 22 position. Directional explanation for some of our friends from Wales – north up / south down. Isn't Wales also in the Northern Hemisphere?
Miss On is and has always been a much beloved member of our Bangkok darts community. When she took the big gamble and opened her own place – we all did our best to support her. You can see this in the darts event photos. But these were not enough to sustain a business that far down Soi 22. Maybe different now days – then – "wham" the dreaded virus. Who knows?
Special DT "Shout Out" to Keiran our friendly IT guru. No matter how much I manage to screw up this website & FB pages – he manages to fix all. But a sincere – Congratulations Keiran & Wife. Daughter entering university studies – great stuff. Whoa, he must be an old guy with daughter in university . . .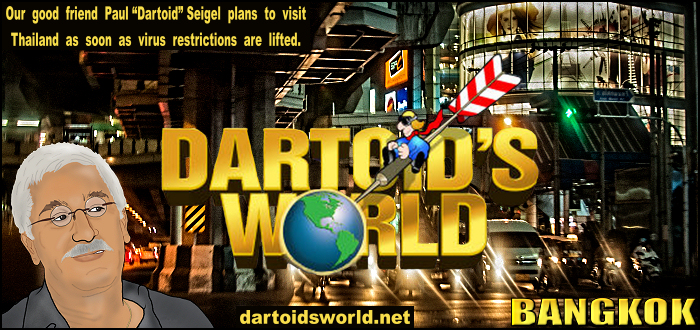 "Dartoid To Return Thailand" – Yes girls, believe it or not our good friend Paul intends to come back for a visit when virus restrictions are lifted. We need an event – Can Do – Got me a beer bet on that. Mr. Dartoid, are you willing to meet our best female darts players at the dart oche ? ?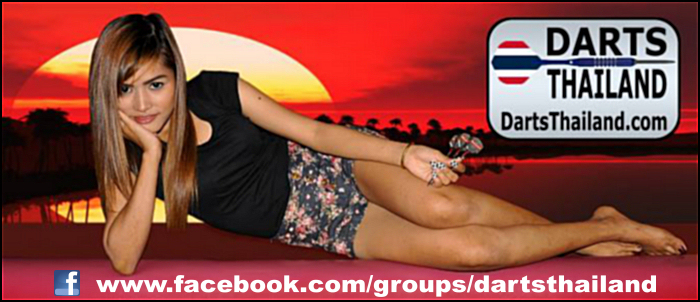 Been asked why I do not cite our departed good friends in these DT pics. No, I prefer to remember them as we knew them – with happy memories from the pics. However, you are always welcome to comment on our DT FB group page. Until next week or in the really unlikely probability that we get another DT article published on time. Stay tuned – Johnny – DartsThailand.com