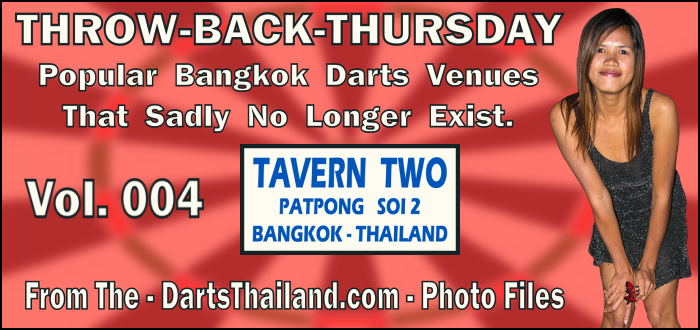 Sawasdee-kop (hello) – Welcome to our latest TBT update. If you haven't already guessed, yes TBT is being used as DT's "Defunct Darts Venues History" file. This is now being added as a special "new feature" on the DT website. Posted things on FB quickly disappear but on the DT site the complete TBT series will available from an easy to find menu.

This week we highlight another defunct darts venue – Tavern Two. Not only a popular Patpong darts bar – this place was a virtual Bangkok darts museum. Their walls were filled with photos from over the years including the original Bangkok Darts League, Hong Kong Transpack League, major darts tournaments and lots of in-house photos. Why didn't anyone take the time to scan all these photos for an on-line Thai darts museum? Yup, could've, should've & still kicking myself over missing that opportunity.
Tavern Two is special to me on a personal level. I 'discovered' Tavern Two on me first Thailand visit – Dec 1993. The very first Thai darts joint I discovered among lots of other darts bars & "nightlife attractions" in Patpong. Obviously, I was well impressed. Tavern Two was already a well established venue in operation for quite a few years when I first discovered it. Don't know when it first opened.
In May 2009 I met up with two friends in Patpong – the lovely Miss Ae Ae Frankly & long time popular darts player Adul (RIP) who sadly lost his battle with cancer way too early in life. Adul was active in the Bangkok darts scene for many years not only as a player but also a team captain organizing dart teams out of many venues in various dart leagues over the years. His contributions to the overall Bangkok darts community are still sadly missed.
As you can see from the photos, Tavern Two had quite a collection of darts pics from over the years. My 'photos of photos on the wall' was not a planned project – but just a few quick snaps while on our visit to the bar. I ran these threw my adobe lightroom program and this was the best I was able to do. In the two pics of the 31st Bangkok Darts League – I believe the gentleman on the far right is Kenneth Ywin (RIP) long time president of that league.
With dwindling numbers of Patong darts players – Tavern Two sadly closed their doors for business. Just a few doors down on Soi 2 was "In Traffic" a popular watering hole and darts venue, now gone. I think an accurate overview of this time period is that Patpong and the general Silom area was becoming less popular with many expats and tourists with the Lower Sukhumvit area becoming more popular especially for darts and dart bars.
Back to Patpong Soi 2 – across the soi (street) from In Traffic Bar is Cosmos. They discontinued their darts area some time back but remain a popular Patpong nightlife destination. If they will re-open when current safety restrictions are lifted is unknown. A few doors down the soi from Cosmos is "Patpong Cafe" and you can see from the pics that this was once a happening darts venue. Also unknown is if they will re-open when current safety restrictions are lifted.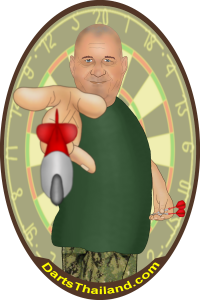 I am most happy to close out this article with some upbeat, positive good news! I got this from a reliable darts source – "Old Other Office" will in fact re-open their doors for business when restrictions are lifted. If New Orleans is the birthplace of Jazz – – The Old Other Office is the birthplace of Darts in Thailand. Established during the R&R era of the Vietnam War, this is easily the oldest continuous operating darts bar or any bar in Thailand. Stay tuned . . .
DT exists due to you and all of our valued contributors – many thanks. If you or anyone you know can provide more information of Tavern Two please contact me. Also any Thai history with info – with pics – will not only be much appreciated but also properly credited. Please realize that I am a real Thai ting tong when it comes to current tech – still attempting to learn the mysterious mobile phone SMS system. Best to contact me via (johnny@dartsthailand.com) or message me via our DT group page on FB.
Stay well & I look forward to when we are able to meet up at the many friendly Thai darts oches and tip a "few" social sippers. – Johnny – DartsThailand.com