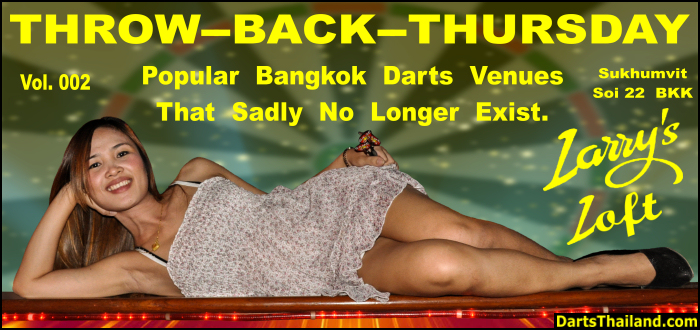 Welcome, or welcome back to you following our new DT series. If you're wondering why this series seems so poorly organized, then you don't know me or us at DT very well. Our main objective with this latest project is to provide a history (mostly photos) of bygone – darts bars, pubs, venues in Bangkok, Thailand where DT is based. Our aim – this will provide valuable historical / hysterical information or at least pleasant memories for many of you !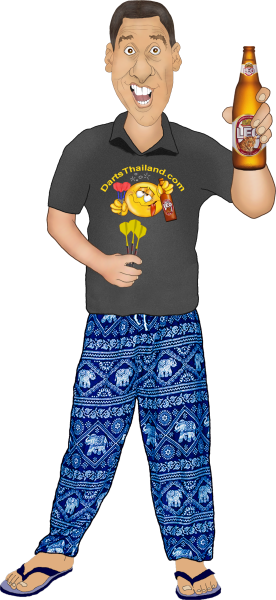 Larry's Loft was a darts venue in its relevantly brief time. Located above Larry's Dive Bar & Restaurant (second floor – American English) or (first floor – British English) – current location of No Idea Restaurant. Larry's Dive had a scuba dive theme popular with 'an at the beach' feel in Bangkok. BTW – there was no real Larry although a lot of tourists stopped in trying to meet him. Larry only existed as a cartoon with a life-sized "cartoon-ish" statue of him at the front entrance.
Hungover Knockout was the original, unique brainchild of publican Jack then managing (or miss-managing depending on your perspective) both Hideaway Pub, then in Queens Park Plaza and Larry's Loft. As advertised, Jack had a huge pot of what he called Hangover Power Soup a German style soup more a stew with brown bread. This along with the Bloody Mary special was great – just what the hangover doc prescribed !
Here's an overview of the Sukhumvit Soi 22 Area – including Washington Square & Queens Park Plaza. This was the greatest close concentration with so many darts venues to be found anywhere in the world. Refer to the attached map pic. To give you an idea of scale the furthest distance – No. 13 (New Cowboy Bar) to the corner of Sukhumvit & Soi 22 is 500 meters (or 547 yards for you in less advanced parts of the world using this primitive system of measure.) Or simply – all of the bars on this map were within easy walking distance.
Our map is not a "the one & always accurate Soi 22 dart bar reference." Correct when first publish – the opening & closing of darts venues – name changes – some places adding a darts throw, others eliminating one was fluid and continually changing. I can easily remember 6 – 8 venues not mentioned on this map over the changing years.
Our future TBT articles – yes, these will include requested Washington Square & Queens Park Plaza features – but this will not be next week. Currently interviewing those who can provide more info and hopefully more photos. If you have photos or stories to add to our Washington Square & Queens Park Plaza features please contact me. We will of course credit you with all we publish. Until New Week – Be Good, Stay Safe & Good Darts ! – johnny@dartsthailand.com