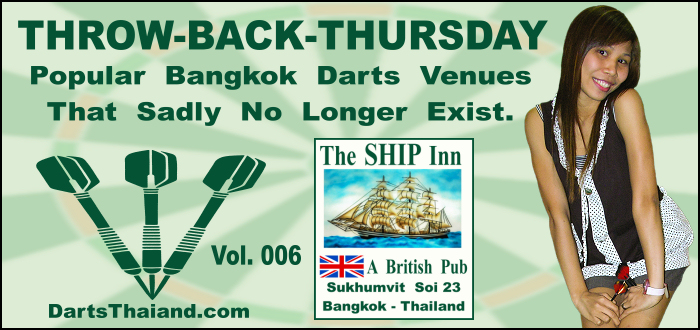 Welcome to our newest TBT update – DT's historical tribute to popular bygone darts bars. This series will be a permanent feature that you can easily find & navigate on the DT site. So, I say this with the confidence of a competent web designer? Not hardly, but our good friend Kap Keiran is our IT guru. Look for these upcoming changes when I finally get my way overdue graphics completed.
This week we remember The Ship Inn – A British Pub – which was located on Sukhumvit Soi 23. Now I've never been to the UK but the Ship Inn sure did have the look & feel of what I'd like to think was the real deal. As you can see from the pics, it sure did have a classy look compared to so many Bangkok watering holes. What I found really ironic was that this civilized establishment was next to the then Old Dutch Restaurant on the corner of Soi 23 and the totally chaotic infamous Soi Cowboy. Now I've got nothing against classical Thai a Go Go joints – quite the contrary – except the earsplitting level of some places' music. When doing me tour guide bit for visiting friends after a few Soi Cowboy joints – The Ship Inn offered a pleasant oasis for a cold brew whilst your ears stopped ringing . . .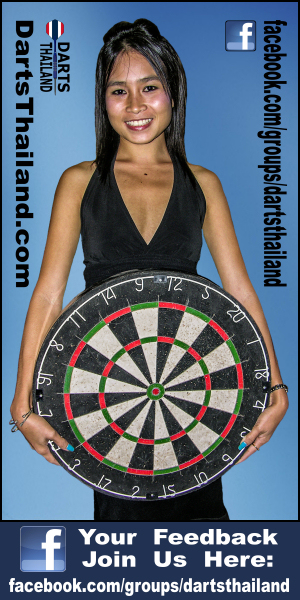 The Ship Inn was run by the ever affable publican Barry. Actually, I think the operation had more to do with Barry's wife. Ahh, yet more slipshod reporting from DT. That aside, a visit to The Ship Inn was a pleasant one. Always a great experience, cuisine, drinks & service! With Thai smoking restrictions – Ship Inn had done some major renovations. So you see – the recessed open-air area entrance area -nice job. Sadly, now all gone.
Army friend pic? Yes, my army friend Jeff Kridakorn, RIP. Both army retired, we met up occasionally to tip a few brews. My retirement assignment at 282nd Army Band, Fort Jackson, SC and Jeff's first assignment. Although only a few years younger than me – Jeff entered the army later in life. Testimony of Jeff's fitness was that he went through army airborne school near the end of his career – Hooah ! Sadly Jeff died way too soon in an auto accident.
Favorite memory – after Jeff and I had a beer or two at New Cowboy Bar we adjourned across the street to the "Spa & Bar" to check out their new darts throw area & their very, very fit darts playing gals. I say to Jeff, "yeah, you speak fluent Thai – BUT – tell the gals you grew up in America and are now trying to learn to speak Thai." Ooo, could not believe how poorly Jeff was speaking Thai – worse than me own honest attempts. Had to keep biting my lip. Eventually Jeff hits the gals with a few Thai one-liners and had all them doubled over laughing. They came over slapping me as I was the one who ask them to help Jeff learn Thai.
Back to Soi 23. Why the pic of The Offshore & Chippy? Offshore was an established popular Bangkok darts venue. Was a really narrow venue especially with the adjoining door to the chippy. To say that you were surrounded at the oche was no understatement. Sadly, additional darts pics I had from here no longer exist on my hard drive.
Additional Soi 23 darts venues that no longer exist – across the soi (is/was) Bradman's? Their darts throw on the 4th floor (Brit ref: GF + 3). Update possibilities – ah, low to non-existent. Further up Soi 23 now long gone darts places are Old Dutch & Blue Lakes. On Soi Cowboy "Dollhouse A Go Go" had a darts throw and team in the LSDL – Lower Sukhumvit Darts League for a few seasons.
Interesting darts throw in "Dollhouse A Go Go" – was just off the stairs on the second floor. Also up there was a viewing area with tables to the dance floor below and in the far back area was the the dancers changing room. As an administrator of the league at this time I got so many petty complaints about this and that darts throw area. Although the Dollhouse most probably had the worst darts throw of any Bangkok darts bar – never a single complaint was ever registered.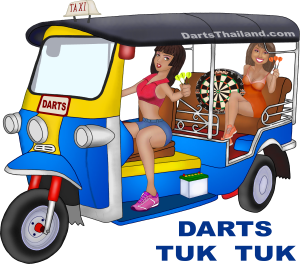 I should mention that the gals were always hurried – half unclothed & then partially clothed in their really skimpy dancing "uniforms" on their way to & from the dance stage – going right next to the darts throw. Common league problem at this time was getting the match started on time. But this was never a problem at Dollhouse. Two of the worst offenders – always late and or showing up at the wrong venue – were "Ned" of Silver Dollar Bar & "JP Oreilly" founder of Flaming Moes. Oddly enough these two guys were never late for a match at Dollhouse, even showing up way early to get in a proper darts warm up. Go figure?
Yeah way late on publishing this report and a longer narrative than usual. But news of additional Soi 23 darts venues that no longer exist that I do not have photos for a separate report. Do darts venues still exist on Soi 23? Oh yeah, and a happy final note is that some Bangkok virus restrictions are being relaxed. Latest is that curfew will end and restaurants will be allowed to serve alcohol as of 01 Nov.
Until our next TBT report – Stay Well & Good Darts !  – Johnny – DartsThailand.com